So what's Jelly Key artisan keycaps ?
At Jelly Key, we are a team of craftsmen, designers, and artists who are passionate about bringing creativity and humanity to the world of technology. We believe that every craftwork has a special value and that's why we create handmade artisan keycaps that are not only functional but also beautiful.
Our keycaps are not just ordinary accessories for your mechanical keyboard. They are unique pieces of art that can add personality and style to your setup. When you use a Jelly Key artisan keycap, you are not just typing on your keyboard, you are expressing your individuality and creativity.
We understand that technology can be monotonous and repetitive, but our handmade artisan keycaps bring a touch of imagination and fun to your daily routine. Whether you're a gamer, a programmer, or just someone who appreciates good design, our keycaps will make your workspace stand out.
So, let your imagination run wild and explore our collection of artisan keycaps. We are sure you will find the perfect keycap that matches your personality and style.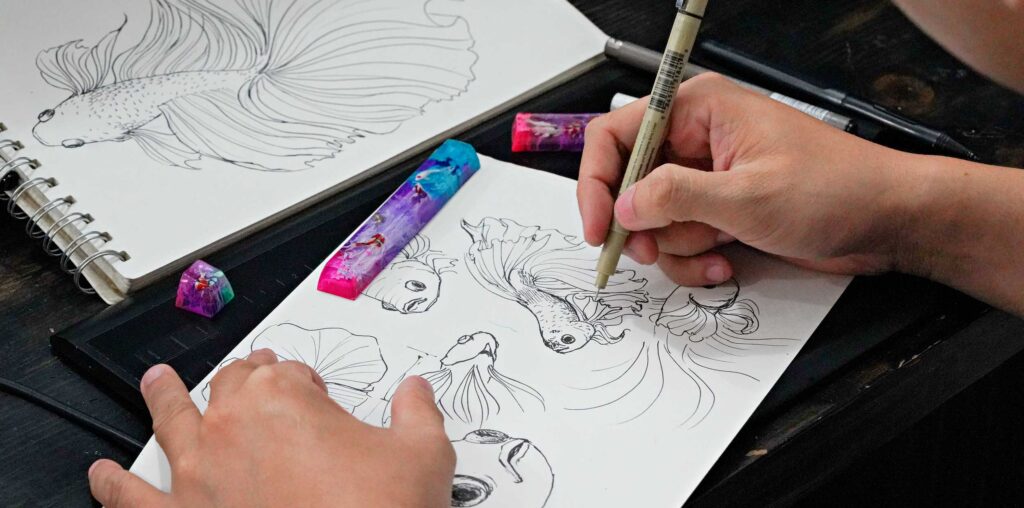 Imagine being a chef, experimenting with different raw ingredients to create the perfect dish. At first, your attempts may not be successful and some dishes may not look or taste appealing. However, through trial and error, you finally create a masterpiece that not only looks and tastes great but also brings you a sense of satisfaction. This is the same process that Jelly Key follows when creating our artisan keycaps. We use the highest quality raw materials and blend them together with unique ideas and skillful hands, resulting in a handcrafted work of art that brings joy and personality to your keyboard.
What does Jelly Key work with?
What materials does Jelly Key use to create their artisan keycaps? The answer is simple: ideas! Along with the main components of resin and clay, we incorporate various other materials to sculpt and form each keycap. From crystal and glitter paper to Vietnamese and Japanese wood, watch gears, fluorescent components, alcohol ink, and glitter powder, we will use any material necessary to bring our unique keycap designs to life. Sometimes, we even work with materials that are much larger than the size of a keycap, such as cutting a table-sized wooden sheet into a small keycap and meticulously sanding it down to 1.6mm thickness. These materials are not just about ideas, but also require a great deal of time and passion. Can you feel it?
Jelly Key innovations meet creations.
At Jelly Key, we believe in pushing the boundaries of artisan keycap design with our constant craving for innovation and creation. While other keycap makers stick to traditional sculpture techniques, we have taken giant leaps with our Oasis, Nebula, Forbidden Realms, Legendary Castle, and Jelly Eden designs. Each keycap is the result of our passion for learning new skills and experimenting with a variety of materials.
Our inspiration comes from everything around us, from the beauty of nature to the intricacies of watch mechanisms, from gaming to arts and magical spells. We constantly renew ourselves through raffles, giveaways, and unique group-buys. And we never repeat a design, ensuring that each keycap is truly one-of-a-kind.
We believe that the purpose of our artisanship is to constantly innovate and create. As the world changes, so do our designs. We refuse to be bored and strive to bring fresh ideas to the table every day. We manifest reality from our dreams and value our human community above all else. Join us on this journey of innovation and creation.
More importantly, each of our designs is only available for sale once, and only that one single time. We never run the same groupbuy again in any way. The purpose for this fits perfectly with our artisanship philosophy: to constantly innovate and create. As the world is constantly changing, why shouldn't we? Every day when the sun rises, when the new wind blows, it means our creativity needs to be brought into play, in order to produce ideas and make it come true. We manifest reality when there were only dreams. Humans are instinctively afraid of boredom, and that's the idea of us caring about our human value and community.
Acquire inspiration
Ideas are everywhere. It surrounds us.
The environment around us inspire us the most.
Brainstorming
Listing down the ideas. We acquire and provide each idea.
We then find intriguing concepts from these ideas.
Concept sketches
Visualizing our imaginations, into paper, so that we could make sure that the concept is doable.
This is also important to analyze the capability of the concept production.
Then the final design can be sketched with paper then modeling by clay and tool or digital painting on computer and 3D printed the mold.
Both of the process take a lot of time and require skillful hands of artist, regardless the tool he uses.
Demo prototype
It's time to make this concept keycap into a real product.
This is the demo production of the concept.
Peer reviews
We create samples to get feedback.
It is rare for a prototype to be perfect at first go.
Improve
Once we collect the feedback, we revise it and acquire more ideas and inspiration.
The most appropriate responses will be certainly applied to develop the products final form.
Finalise
We create the final version of the keycap.
The product is then ready to be launched.
Finished
The keycap is on it's way to the store. Are you read.
Strict

quality

assurance processing
Every single Jelly Key product has to go through a strict quality assurance process. If the product meets the Jelly Key standard, the product will be carefully packaged into the Jelly Wooden Box, which are coated with mouse inner side. It helps prevent keycap surface from being scratched and scraped in transportation and delivery process. We ensure the quality of the product by paying attention to every detail at each step of the production.
From top to bottom, our keycaps are smooth to the touch and feature soft edges. The different phases of Jelly Key requires hand-processing to achieve the promised complete and simplistic design. The careful craft of the layered finish fits the deep, and rich galactic theme. The keys are precisely abraded over many hours, requiring absolute focus and concentration to achieve the smooth body finish of the Jelly Key. This is truly a unique, handmade product that no rival can mass produce.