What is artisan keycaps (custom keycaps)?
At Jelly Key, we delight in our unwavering dedication to the art of luxury craftsmanship. Embracing a legacy steeped in history, the term "artisan" harkens back to the grandeur of the Medieval Period, where it adorned skilled creators who crafted exquisite masterpieces with sheer virtuosity. In our realm, this esteemed title is exclusively reserved for those with refined expertise and training, ensuring the creation of valuable treasures that exude trust and opulence.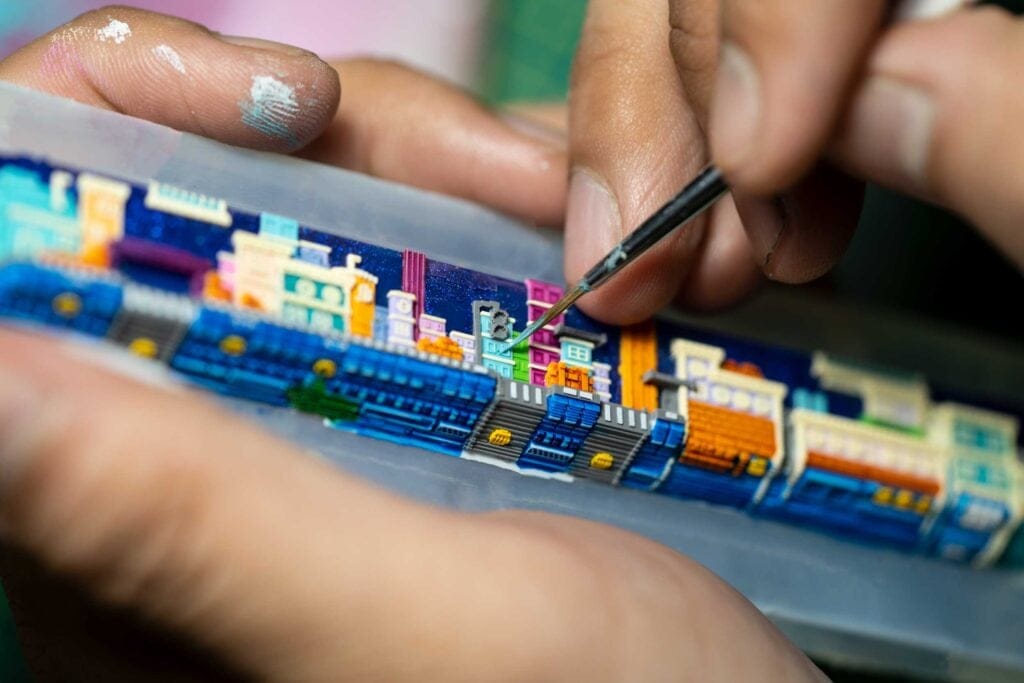 Our commitment to artisanship is also rooted in a human-centered principle, as an artisan is someone who does skilled work with their hands. At Jelly Key, we believe in creating only exquisite handcrafted products, including our artisan keycaps.

Our goal is to not only protect your mechanical keyboards but also to inspire creativity through our joy-filled artisan keycaps. We believe that when you work with serious motivation, you can achieve great things. Our inspiration comes from everything around us, and we want to share that with you.
Join us on our journey to discover the depth of artisanship and to experience the beauty of artisan keycaps, crafted with exceptional delicacy by our miracle artists' hands.
How to make artisan/custom keycaps/custom resin keycaps
Jelly Key has put together a guide for making custom keycaps, and we're excited to share it with you! Making artisan keycaps involves several steps that are critical for achieving optimal results.
First, you need to cast a resin mould and customize it based on your idea or theme. Creating a sketch beforehand can help you plan the details and design factors for your prototype. Next, you'll need to sculpt the keycap using clay or wax.
Once you have your sculpt, it's time to pour the resin into the mould. With practice, you'll be able to create custom keycaps from scratch that are unique and personalized to your liking.
To get started, take it easy and focus on learning the basics. As you become more comfortable with the process, challenge yourself with more complex designs that showcase your creativity. If you need more guidance, check out Jelly Key's latest collection for inspiration and detailed instructions on making custom resin keycaps.
We hope this guide helps you create your own artisan keycaps and adds a touch of personality to your keyboard!
Where to buy artisan keycaps
Check out the list below for the best websites to buy custom keycaps to satisfy your passion for these unique mechanical keyboard gears.
Amazon.com: Guess we don't have to introduce Amazon as it's always been the place to go if you want to anything online from anywhere. It mostly offers a wide variety of keycaps at a reasonable price from many sellers. If you're looking for more advanced sets of keycaps, it's also available but you may have to dig deeper in the site.
Overall, Amazon is a great option for those who need a simple keyboard touch-up or just start off their journey into the custom mechanical keyboard world.
MechanicalKeyboards: This website is the marketplace for mid-range keycaps, which means you can buy well-priced keycaps at a very decent quality. Many brands listed here already have a certain reputation on the artisan keycap market, such as GMK, Tai-hao, or Ducky, providing you with lots of options to choose from. Check out MechanicalKeyboards for a fresh upgrade to your keyboard that won't cost you a whole fortune!
Mechgroupbuys: Just like the name suggests, Mechgroupbuys is the place for you to check on the latest groupbuys of custom keycaps from many quality sellers. It works as a tracking site of live group buys and information regarding restocks and keycap extras from vendors. This is an amazing choice for you to keep track of all the ongoing groupbuys without the hassle of opening tons of other websites that sell the keycaps you want to buy. Also, note that purchasing custom keycaps in groupbuys means you'll have to wait for a certain amount of time before they can be delivered to your doorstep.
Jelly Key: Jelly Key sells our artisan keycaps that are purely made by hands and in various topics of creative concepts and daily life inspiration. Jelly Key's custom keycaps are most usually purchased through groupbuys, but they're also available in seasonal and limited editions that you can win by giveaways and other sale activities. Check out Jelly Key's custom keycap collection here to get an exquisite touch to custom keycaps that you can enjoy for your mechanical keyboards.
How to customize keycaps
Customizing your keyboard can be hard at times as it takes skills to do it yourself and money to buy it from others. Still, these are the 2 ways for you to upgrade your mechanical keyboard to the next level. If you're looking to make one your own, the first thing you should do is preparing ideas and materials. Get yourself a sketch of the keycap prototype, then you'll know what you need for the next steps: making the keycap sculpt, molding, and coloring. There're a lot of tutorial videos online that can show you how to make a keycap mold with more details and specific steps.
Or, you can take a look at the keycap websites and choose from there who is selling the keycap you're looking for. Jelly Key offers a great variety of amazing custom keycaps that can help you decide immediately. We come with incredible designs and themes that you can hardly imagine of. Check out Jelly Key and our latest custom keycap collection here.