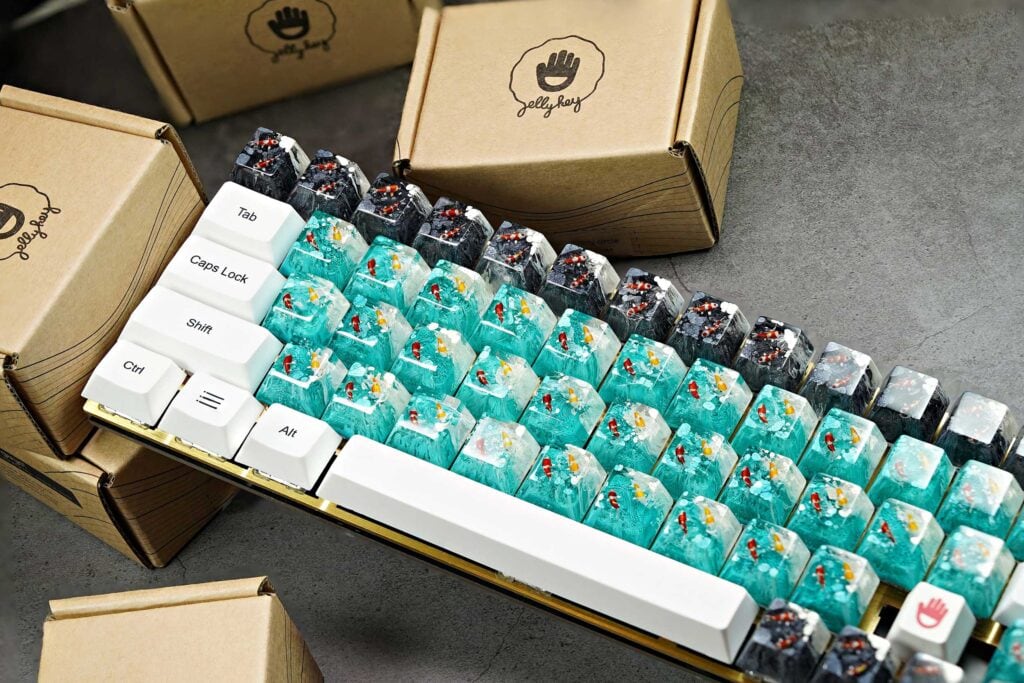 Hello, fellow keycap lovers! We are delighted to give you another update on our current delivery and production progress of Jelly Key products. Today's blog covers the latest updates on 3 keycap series: 8-bit, Butterscotch Planet, and Zen Pond III. Let's get started!
The best news goes first as we have finished shipping all the 8-bit keycaps! For several countries, your packages are probably still in transit but don't worry; we will update the tracking status as soon as we receive any information from our delivery services.
Our Butterscotch team is still producing these spectacular planets, and we are so excited to say that the first keycap batches of this collection have been sent to the shipping service already. Its production is in progress but we promise you, the whole team is working at their full capacity to have them ready for delivery. Our Jelly Key artists have to utilize their craftsman skills to the very best as this series is very challenging to make, considering a wide range of tiny details inside. To replicate these sophisticated pieces such as self-propelled vehicles, human outposts, energy stations in space, or especially the terrestrial planet's surface, we have to try out many different materials to make them look as much realistic as possible.
Next comes the Zen Pond III, which might be the most challenging keycaps of all three. The major obstacle we encounter during making Zen Pond III artisan keycaps lies in the selection rate after moulding the Koi fishes. It normally takes up to 10 hours for the fish casts to dry, and we will proceed to remove them out of the shaped moulds. Due to the tiny size of the Kois, this is extremely difficult to do as their fins can be easily broken, not to mention we also have to clean them afterwards. So we have to make a lot of mouldings, reaching approximately up to thousands of Kois. This small size also makes the painting work extra hard and takes more time than usual so that the colour arrays won't be smudged and stay in the correct position.
Also, because of the large number of size options and colours, our production comes from the smallest to the largest size to keep track more easily. But the good news is, we have shipped the first batches of Zen Pond III keycaps! This is still in progress, but you have our words that they will be finished as soon as possible.
As usual, below is the list of countries that are their international shipment acceptance:
Australia, Austria, Belgium, Brazil, Bulgari, Canada, Chile, China, Croatia, Cyprus, Czech Republic, Denmark, Egypt, Estonia, Finland, France, Corsica, Monaco, Germany, Great Britain and Northern Ireland, Greece, Hong Kong, Hungary, Indonesia, Ireland, Israel, Italy, Japan, Kazakhstan, Korea, Latvia, Lebanon, Luxembourg, Mexico, Malaysia, Netherlands, New Zealand, Norway, Philippines, Poland, Portugal, Qatar, Russia, Singapore, South Africa, Spain, Sweden, Switzerland, Taiwan, Thailand, Ukraine, United States, Puerto Rico, Guam Island, American Virgin Islands, Samoa American, Macao, Cambodia, Brunei, Bangladesh.
Feel free to contact us via support@www.jellykey.com if you have any questions or concerns, we will get back to you shortly.