Eden reimagined Butterscotch Planet
For hundreds of years, humankind has always been craving for continued evolution. They continuously look for new ways to work, invent new machines to run the algorithm, create new ideas, and turn them into reality to make our lives a bit easier day by day. And right now, it's a new place to live that we're talking about. Of all the things that humans have accomplished, reaching somewhere beyond Earth's atmosphere is barely considered a significant step in our progressive evolvement as they still have very limited intelligence of what's going on out there.
An age-old mission made possible
And yet, what is going to happen will happen, and the time is ripe. When people on Earth have achieved their desired extent of knowledge in outer space, they long for another habitat as this living process never stops growing. The demand accelerating their will power to reach other skies gets bigger every day, and they've decided to set off on a divine mission to search for life on other planets, even ambitiously on the farther side of their "solar system." Or at least that's what they call it, the network consisting of 8 planets orbiting gravitationally around the Sun. This ultimately leads to a burning question that has been hanging in the scientists' heads for centuries: Is there, or is there not life on somewhere far off the Earth?
Embarking on this epic journey with an entire planet's criticality level, the designated astronaut crew to partake in the project leaves Earth with a heavy heart but not without a vigorous mind. After grueling years of recovering in space, the team finally detects signals of a potentially habitable world. However, in very strange coordinates that are just about to disappear at the edge of the radar. Ecstatic and concerned at the same time, the crew adjusts the route and lands on this mystifying planet, not knowing what's coming ahead.
Something profound unveiled…phenomenally
Upon arriving on this orange brown-ish spherical dust block, the crew decided to call it the Butterscotch Planet, resembling what they can discover back in the solar system – the famous Mars. But things don't stop being puzzling here. While the whole pressurized crew is busily collecting the remaining core drill samples to study, the captain discovers traces of the social interaction of unknown alienated creatures scattering all over the planet. At this point, he knows they are not the only ones here. And it's true.
The crew then keeps tracking the signs to investigate more about the lives that used to emerge here, only to find out that they have been deep-rooted all the way underground. At this point, things are getting more and more abnormal than they should have been, causing the whole crew to doubt themselves if this is just a place with habitable signs for humans? When they start digging deeper below the surface, literally, a whole new world unravels in front of their eyes.
An underground labyrinth of civilization and order
What they have found is striking: a massive, fully functional advanced civilization network with countless sub-cities buried underneath Butterscotch. The walls seem to be made from volcanic rocks that stretch out to the planet's core, raised through a multi-level loading system. The crew scientists suggest that this giant labyrinthine complex can accommodate more than 150 million human beings or whatever creatures that have been residing on the planet. With its highly advanced social and cultural development organization, these underground city networks in Butterscotch can be called a self-contained metropolis that includes all the necessary, not to mention, neoterically enhanced technology, which helps to aid the lives here better. These societal indications and daily techniques are terrifically bizarre, unlike anything they see and understand on Earth. But the strange thing is, no other living habitats can be found anywhere on the planet.
So, what is this place?
Little do they know, they have arrived at the deepest place of Eden world, home to many divine creatures that not anyone can have a chance to encounter with. And here on Butterscotch, they are the first human beings ever to discover this layer of Eden, but indeed not the first inhabitants here. Let's say that they've fulfilled the mission, finding a place beyond Earth with signs of life, but they couldn't explain why such an advanced underground metropolis is hidden in the universe. And the citizens of this Butterscotch planet, where have they gone?
A spin-off on our age-old Eden
Unlike several previous keycaps that only require a plain grey base, we cast the base for this planetary series with the iconic Eden effect proudly made by our grandmaster artists to create the frame model. Rewind back to when we were the first to create the Eden, Jelly Key was exploring and researching for new effects bearing our own impression. Finally, the team efforts paid off with the Eden effect being born, an important milestone for many of our keycap generations.
Details are everything
Once finishing with the foundation, we move on to the more intricate parts that decide the essence of these keycaps: inner details. For this Butterscotch series, producing these sophisticated pieces majorly needs an absolute level of precision and requires extraordinary artisanship skills as the terrestrial planet's surface is challenging to simulate. We have to use various materials to make it look more realistic because this terrain should carry masses of soil, rock, dust, and sand.
With tiny pieces come huge efforts
Other details lying inside each Butterscotch baby are also a result of elaborate efforts from our key-makers, particularly self-propelled vehicles or human outposts in space. This step usually takes the most time as we want these details to be visually clear as much as possible in a size of only from 3 to 4 mm.
Besides the space exploration vehicles, we also build energy stations in space for the astronaut crew when they arrive in Butterscotch planet 😉 For this specific facility, we focus more on painting to create a lighting effect that resembles an antenna transmitting telecommunication signals to increase its lifelike and authentic features.
The masterpieces are shaped, and they're yours!
After these components have been completed, we start pasting them onto the previously created base and cast resin again on the entire keycaps. We then use sandpaper of different levels of fineness from low to high to treat the surface after removing them from the mold. The final step is polishing to remove any traces of rough and uneven surfaces, therefore help create maximum transparency.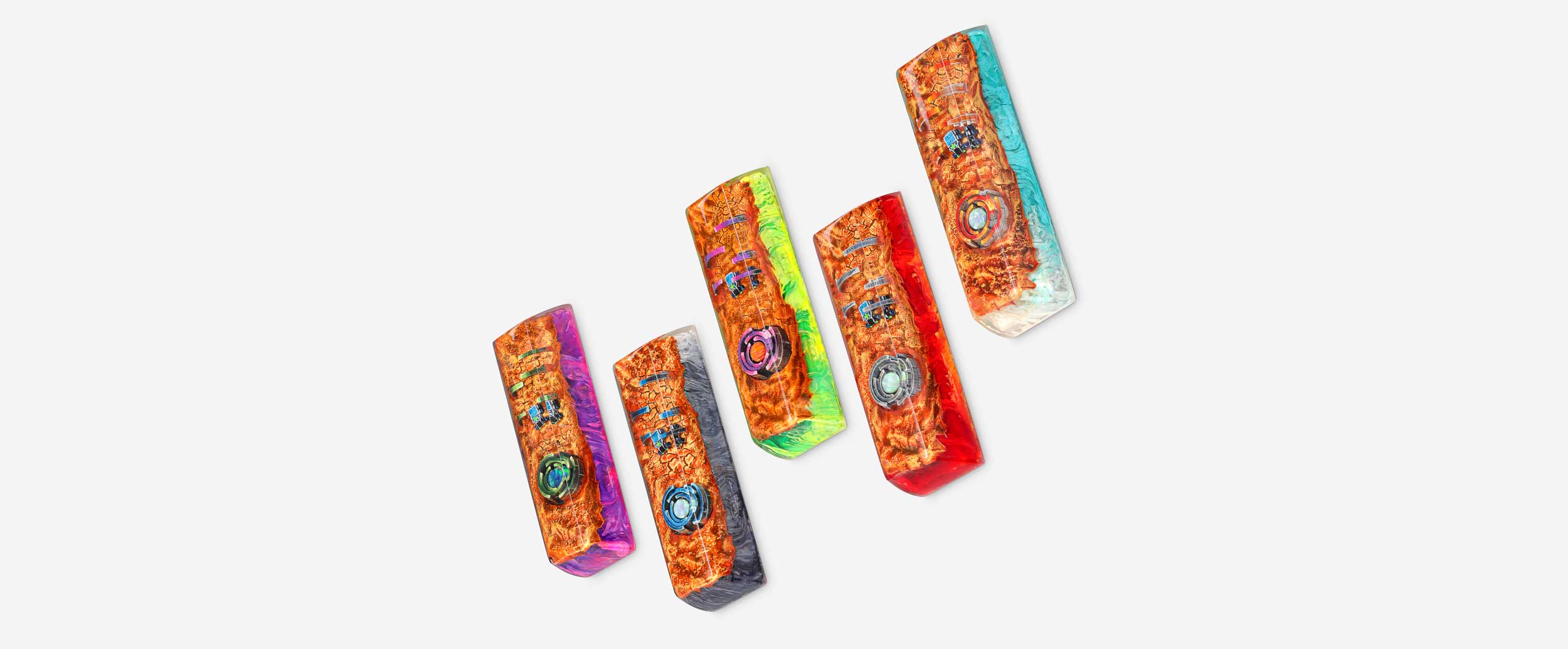 Butterscotch Asteroid Voyager
group-buy information
Open time: 10/20/2020
Close time: 10/26/2020
Starting to Deliver after Groupbuy: 90-100 days

We could close the GB sooner than expected. So take your chance as soon as you can.
what is in the box?
1  artisan keycaps by Jelly Key.
01 Medal dog-tag with engraved unique series.
01 Wooden box.
A unique serial number is at the bottom of the keycap as well.
sidenote
The keycap was made entirely by hand and tool. The final product may vary from the original photos but at acceptable aspect. We would love to ask you to tolerate any reasonable differents.
With each artisan keycap from Jelly Key, we offer you a one-on-one replacement if there is a fault that causes by our artisan team. Feel free to contact us.