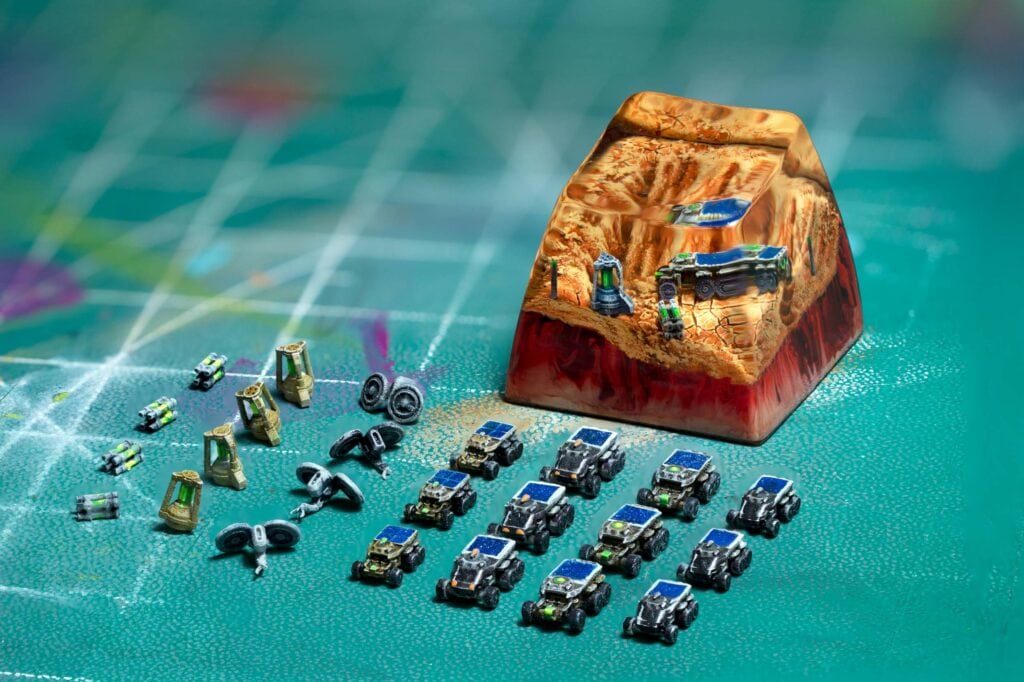 We are back with another fresh update for you after the holiday. Today, we'll be talking about the delayed shipment of Zen Pond III and other previous group buys; and more excitingly, the ways we're trying to improve our production process and to ensure that our latest group buy – Men v. droids – untold stories will be shipped faster (90 days).
But first of all, let us start by sending our deepest apology to you for missing the scheduled delivery time and keeping you waiting for more than you should. We open each group buy once and once only, so any changes in the production process would cause many problems. A different challenge is very likely to emerge at some point during the making of a new design, and it's not easy for us to get used to it or control those effects. The new working process will cut downtime per layer casting, casting is the longest time, not about waiting, it is about time to work per layer. We aim to reduce the waiting time for the upcoming group buys to 90 days or less. Our plan with the latest collection – men v. droids – untold stories is to deliver exactly within the committed time of 90-120 days after the group buys are closed.
As regards the delayed group buys due to a lack of proper process and human resources amid COVID-19, we would like to briefly describe the difficulties that our Zen Pond team are encountering:
"Casting the fish characters through shaped molds in a tiny size. We do not have them easily printed in 3D, and just like that, the keycap details come straight out of a machine. Everything is done by the hands of our artisans, preparing the molds, pouring resin, etc. The defect rate of molded Koi fishes is incredibly high.
The painting step is hands down one of the hardest things we faced during the production of Zen Pond III. Koi fish molds in this collection are much smaller than the previous series, so it's challenging to paint the fishes and keep them from being smudged. We had to apply 3 – 5 layers of paint for each keycap so the colors can have a certain thickness and be clearer to our eyes."
This small size also makes it more difficult to clean them after taking them out of the molds. Not to mention the fact that our artisans must secure the details in the correct position.
We need to combine many different colors to create the wavy effect, and it takes from 8-10 hours to wait for the color rays to drop until necessary. Last but not least, our Zen Pond team always tries to produce the most authentic keycaps possible.
Besides the Zen Pond team, our other teams of Eden reimagined: Butterscotch planet and team Arcade cabinets 2.0: Classic never dies are also working very hard as we don't want our customers to wait any longer. Please bear in mind that for the finished keycaps, we always try to send them out as soon as possible. But it's also unavoidable that the parcels might be lost or delayed due to the COVID pandemic in several countries. Feel free to contact us by email at support@jellyley.com for status tracking if you haven't received your order yet.
With the improvements we mentioned above, it is expected that the collection of Men v. droids – untold stories and 8-bit series II: Pipeline bots will be shipped within 90 days.
Thank you for your time, and we'll talk soon on another blog!