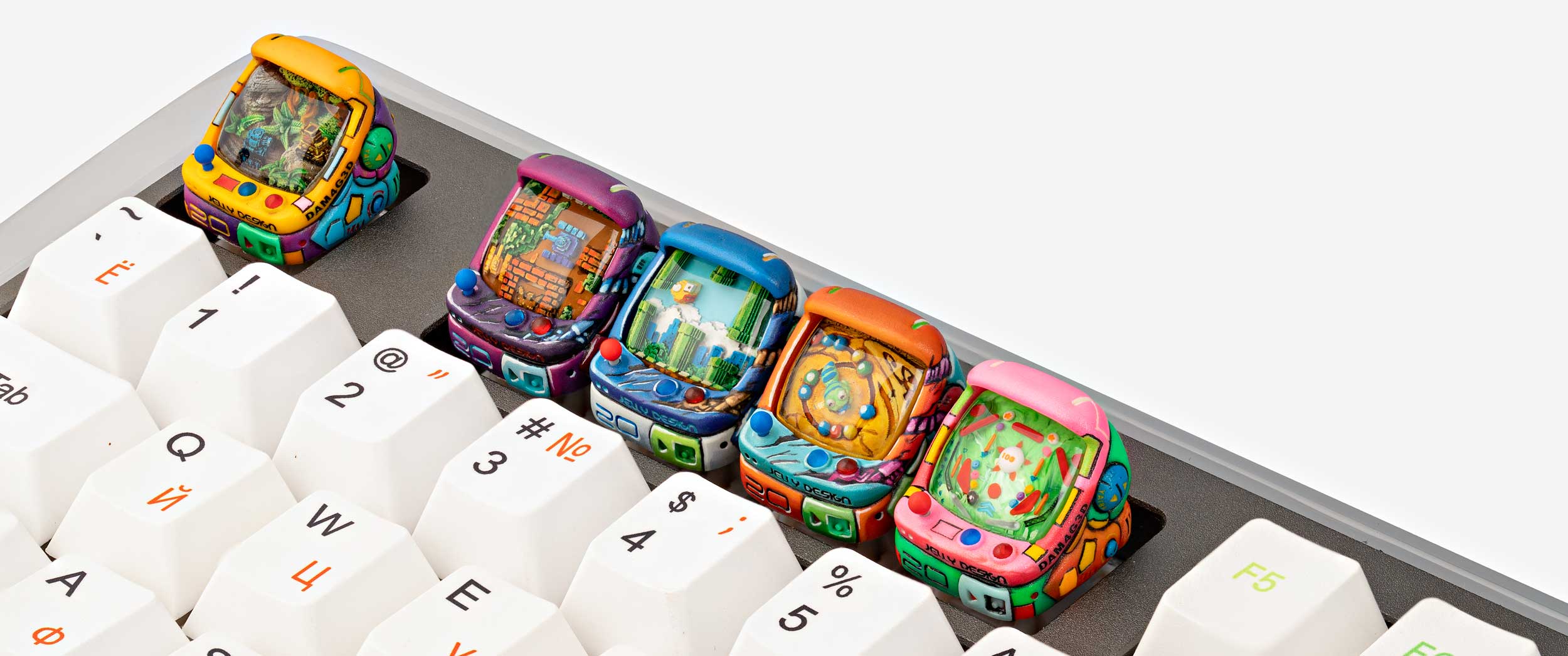 As craftsmen, designers, and art lovers, our mission is to bring ideas to life, and more magically, to something that fits right on your mechanical keyboards. In this way, you can surround yourself with craftwork masterpieces that are filled with loads of creativity, escaping the virtual world where mass-produced products can be found anywhere. So, where do we get our inspiration? You might ask. The answer, my dear, lie around us all. With a bit of luck, we can stumble on it every step of the way. And when it comes, you just have to stop and grasp the chance.
Once again, it's a golden era
This time, our Jelly Key artisans went back in time to 40 years ago. They took a trip to one of the most iconic eras of pop culture in the 1980s, where arcade games were taking the whole world by storm, scattering around every corner of their birthplace continents. Since there were no do-overs on this time-travelling trip, we choose our destination very carefully. Our team wandered through time and decided to land on the year 1978 when Space Invaders was released, to then discover something truly unimaginable.
There's such a place as the "token city"
It was an abandoned amusement arcade centre that sat on a corner of the city's busiest intersection. After doing some research around the town, we learned that the place used to be the most famous go-to spot for all children and teens back then. As big as it was, the centre did not have an official name; people just called it "Token City." Reversing to a few years back, you'd often overhear the kids here chattering to each other's ear just after school, "To Token City?" and just like that, they disappeared into the arcade with carpeted walls and row after row of brightly coloured video game cabinets.
Even though the Token City was absolutely deserted, it's like we can still feel the smell of fresh paint of the arcade machines or the classic beeping sounds from the games that used synthesizer effects to trigger the excitement in you even more. The way they held the controlling joystick with thrills to win the game was reflecting in front of us, just like we had gone back to our younger selves and watched old footage of our lives. All of these worn-out things we saw in this arcade center evoked such vivid memories of the place that was once the portal for the children to escape reality and indulge themselves in another world where they can be real heroes or warriors. In retrospect, it's hard to judge the kids on why they could become so addicted to arcade games like that, right?
Artists gotta do what artists gotta do
We found more than just some dusty old arcade machines; it is an exhibition of nostalgia and, in some ways, melancholic traces to a golden history of arcade games. Touched by this beautiful cultural icon, Jelly Key decided to take these aged cabinets to present and restore them into what they truly deserve, to be used and cherished by people – freshly upgraded, new, and shiny Arcade Cabinets 2.0: Classic Never Dies artisan keycaps. Let's take a moment to relive history together with us!
For the most updated information about the group-buy for this Arcade Cabinets 2.0 collection, don't hesitate to subscribe to our mailbox as shown on the website! More exciting news to come!
First thing first, we cast a resin base to form an essentially basic framework in producing any keycaps. The main difficulty in this very first step is the dry time; it takes more than 8 hours for the resin base to fully harden, and therefore being able to proceed to the next stage.
Then, we start making the mini details inside, which you can already imagine, is very challenging and requires extreme patience and high artisanship from Jelly Key artists in order to keep the resemblance to what they should look in real life. Signature bits made in this keycap series are iconic in the gaming field: tank, monster, gun, animal, ball, and many more vibrantly coloured details.
When the pieces are shaped properly, we move on to paint them with a wide range of colour sets in accordance with this particular Arcade Cabinets 2.0 collection. In this important step, we apply multi-layers of paint to create deeper effects in hue and a more intense feeling of thickness, making it visible to your eyes.
After these tiny gaming graphics are completed with their appearance, it's time to put them on screen! We carefully place each painted item into the keycap and arrange them according to their correct positions behind the cabinet screen. Then we continue moulding them in the resin base to form a solid block.
Another component needed to complete this keycap is the outer case of the cabinet, including the buttons and handles. Everything here is produced by casting and sculpting through a mould, and this is the same for making the cabinet case. We have 6 colour versions in the Arcade Cabinets 2.0 collection, so we have to wait for 8 hours for each coloured detail on the outer case to cool off and dry, and it takes 48 hours on average to finish the whole case. After hand-painting them, again, in multiple layers, we put solidified cubes of the overall screen with small details which are finished earlier into the case, and there you have it! A fully completed Arcade Cabinets 2.0 keycap that holds your favourite retro gaming moments!
group-buy information
Open time: 11/25/2020
Close time: 12/2/2020
Starting to Deliver after Groupbuy: 90-120 days (see our post about working & COVIS delay)

We could close the GB sooner than expected. So take your chance as soon as you can.
what is in the box?
01  artisan keycaps by Jelly Key.
01 Medal dog-tag with engraved unique series.
01 Wooden box.
A unique serial number is at the bottom of the keycap as well.
Any Arcade case + All games = 6 keycaps & One Monochrome keycap (gift) & free shipping
Any game screen + All case = 8 keycaps & One Monochrome keycap (gift) & free shipping
All case + All game screen = 48 keycaps & One Monochrome keycap (gift) & free shipping, discount $97
Monochrome is a gift only for Jelly Key fan, not for sale.
sidenote
The keycap was made entirely by hand and tool. The final product may vary from the original photos but at an acceptable aspect. We would love to ask you to tolerate any reasonable differences.
With each artisan keycap from Jelly Key, we offer you a one-on-one replacement if there is a fault that causes by our artisan team. Feel free to contact us.
Specs
MX stem
Design and Handcrafted by Jelly Key
100% handmade, not by 3D machine.