Rumor has it that you love to know how every artisan keycap was built. Chances are the stories behind every keycap box can thrill too! At Jelly Key, we consider the box as an important product also. Look, your favourite keycap is as precious as a… wedding ring to us. The product may be a carefully chosen gift to your loved ones also, so it should be best protected with the best options of container. Read on and you know how much you have inspired us to create and change.
Back in 2014, Jell Ear – the very first product of Joiha – is contained in a wooden little box. The key design criteria of the box was 100% artisanally crafting. We also decided to go with square-shaped box for its spaciousness and convenience.
Let's go to 2015 when our wooden box had got some interesting changes! This time we made it integrally with 2-axis CNC machine and carefully carved some holes to keep the earphones well fixed instead of using styrofoam in the older version. It is also important to note that the carrier was crafted with 2-piece wooden design in the effort to add more pleasurable experience to users.
2016 was the year we made big moves in packaging. Firstly, with Jelly Galaxy box, we decided to change the material to 100% resin. Therefore, our little earphones were perfectly contained in a box with dazzling galaxy effect outside and a laser carved, white resin covered logo of Jelly Key.
The mini galaxy guy was then "dressed up" from rough to glossy coverage. Our artisans were successful to create the perfect shining coverage for the box so that you would see the breathtaking effect of the galaxy in your hand.
Let's now bring the Jelly Doux to the spotlight! The box was made of multiple layers of cardboard and crafted in circular cylinder shape. How light and effortless it is to use and ship the design! Not to mention its recycle material. There were however limited times for reusing Jelly Doux due to its typical type of paper.
Did you remember the launch of Jelly Key first collection in 2016? They were put in wooded circular-cylinder-shaped box which was built small and neat in order to protect the cover details of the 1u size Starry Night keycap. In the attempt to prevent the keycap inside from damage during delivery, the case was designed one piece wood and equipped with high quality styrofoam. This minimal circular-cylinder-shaped box did a good job in saving capacity and optimizing comfort in your hand, like a pleasing wedding-diamond-ring box we believe.
Well, before the official Jelly Doux was built, we tried to craft it with another type of emery paper. As you can see in the photo, with the same circular-cylinder-shaped box, this material enabled the draft box to be more well-proportioned than our Jelly Doux. Despite its perfection in the type of paper, why did we use it for the final design? Safety matters, as always! Our desire to safely deliver the perfect keycaps to your hands has been continuously an inspiration for us to build the final Jelly Doux.
In 2017, we welcomed spacebar and enter keycap designs to the family, yayyy! This also mean that the one piece wooden box was made with different size, but we still decided to go with the old design of the container for its perfect protection capacity. In addition, we leveraged the quality of the styrofoam inside the box in order to create a truly innovative protection of keycap cover layer.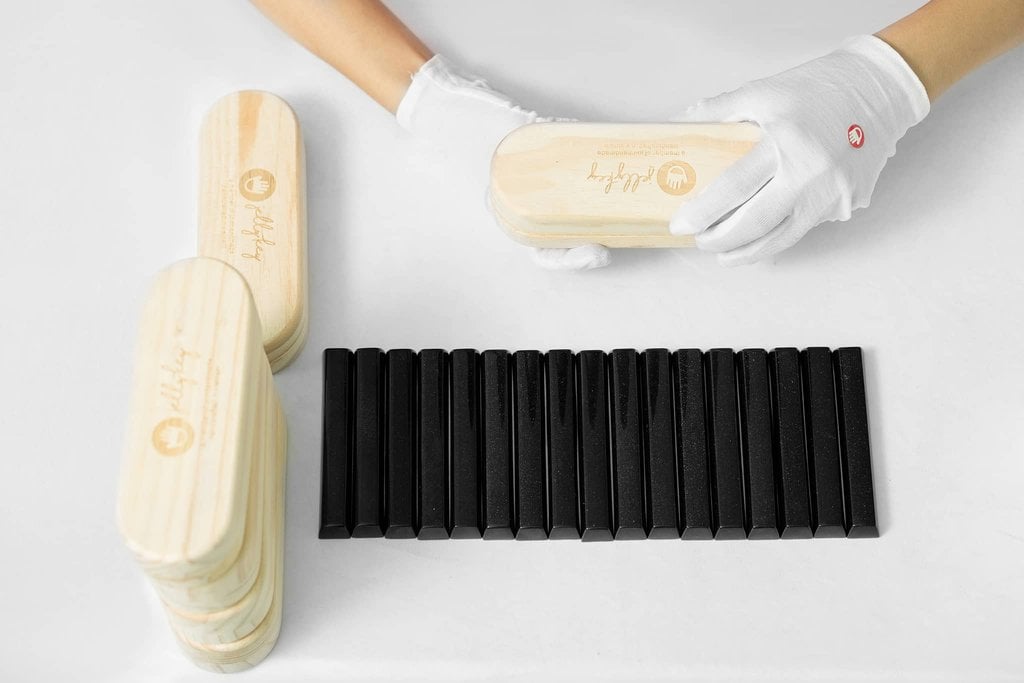 The boxes were then taken to the next level in 2018. With all the experiences in packaging innovation, eureka, Jelly Key found a new wood material that keep the masterpiece inside safe from humidity! The logo was also more minimal, shallow carved to create beautiful contrast. Interestingly, we added a message in the back of the box which is "Now its your turn to treasure this masterpiece– Jelly Key".
So how the journey go, in 2019? We are delighted to share that now there an official team of box design and packaging in Jelly Key, because we want to seriously treat packaging as a product also. As a result, we are able to make more creative designs and as always, product safety first! We have never ever forget the rule.
Do you noticed the little retro burgundy red stamp in our newest design? They tells a story too.
Wax seals can be traced back to be first used to seal letters in some of the earliest known civilisations. Then from about the 16th century, they have been used for envelopes and Jelly Key's boxes in 2019, ha! Apart from the changes in size for 3 categories – round, enter and spacebar boxes, our designers apply a wax seal with the handshape logo and "Jelly Key" well formalised into the stamp. The back of the box carries the same message: "Now its your turn to treasure this masterpiece– Jelly Key". In general, the distinguished mark of a bygone era and more security and ceremony look make the box so tempting, right? We hope that anyone who has received wax-sealed box like that will certainly be more excited to open it.
No matter how far we will go in this packaging innovation journey, no matter how many changes we are going to make, they are always product protection and your satisfaction that never fail to inspire us.
Jelly Key team.