At Jelly Key, we try to put our hearts in every little thing we do, as we believe that's how masterpieces are made. With that in mind, the boxes that carry your keycaps also matter to us, to a great extent. The stories behind them can never be a dull moment, even for the way of containing them, this we can promise you!
Last time, we did discuss the whole journey of how our artisan keycaps were built and kept since the very beginning. Now, we are making another significant change as to how they'll appear to you – treasure keepers. Are you ready for it?
For the first important notice to keep in mind, all of the package redesigns are sketched by hands initially, helping to ensure the quality right from the start. This is extremely useful as we can get a clearer picture of how the packages should look like and visualize them properly before moving on to production. We certainly don't want any mistakes in making these handicrafts and have a precise measurement plan for the sizes to be consistent.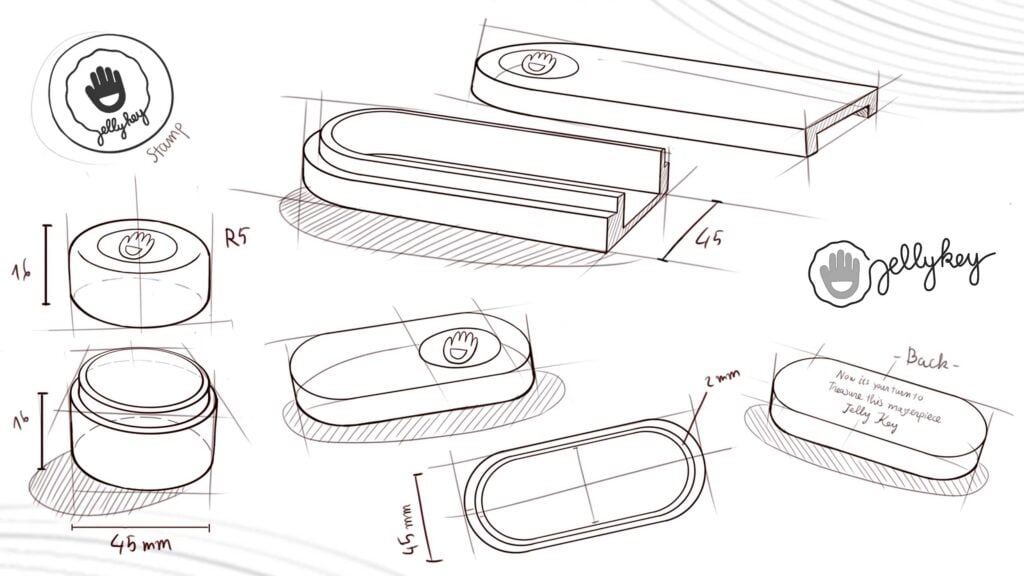 Now we're good to talk about the box size. From now on, all boxes are notably revamped to a smaller, therefore more holdable scale compared to the previous models. Again, there will be three specific sizes, but now gone through an overall refinement in a consistent series of packaging: round, enter, and spacebar, making it easier for you to hold on to.
More importantly, they will fit your hands much better than before, together with their as-cute-as-a-chocolate-box design, you'll see how adorable your keycaps are when they arrive. Just to keep things even more precious, the retro stamp will stay on your masterpiece holders as a loving message from all of us to you.
Packaging also sees a big difference, which is a very encouraging thing to do in times like this. We replace the styrofoam coverage that used to be wrapped outside of the keycap wooden containers with solid paper boxes. Not only does this still have the same protective function from damage during delivery, but it is also more environmental-friendly than using the styrofoam. Note that the paper is made from recyclable materials as well, giving the optimal effect of preserving the environment.
We will also have a list of what's inside the box printed on this paper container for you to know which artisanal crafts you'll get. Let's not keep the suspense going any further from the moment you decide to acquire one of the Jelly Key's treasures, right?
In case you forget what you've ordered, there're scotch tapes with the name of the keycaps right at the edge which you use to open the box. Read on and recall the gems inside the moment they come to you.
Another crucial step we take in the packaging improvement voyage this time is how many artisan keycaps can be packed in a box. In the past, one box can contain only one keycap, regardless of the key type. Henceforward, when you have compound orders, multiple Jelly Key crafts can be loaded in just a single package. We believe this would considerably enhance the space efficiency during delivery and also for you to keep the collection better.
It is our great pleasure to keep innovating and being creative to bring more and more Jelly Key products to you. The change this time may not be ultimately perfect, but it derives from the fact that we're continually looking for ways to deliver the best to you. It will also definitely not be the last change! See you in our next update!