Update 4 (12/16/2022)
I finished five colour designs for this group buy, and they will be available to join on 12/17 (Saturday) at 11 PM GMT+7.
We have 9 SA & Droplet keycap sizes, from 1u to spacebar (6.25u, 6.5u and 7u too).  
Once again, after a long sleep, there is a return of the mysterious creatures in the world: Dragons. However, this time, with the supreme power, they do not come for a legendary story but a cruel battle. With the awareness of strength and power, a dragon eagerly wants to become a leader, but most of the dragon's descendants do not agree. It is because they have lived peacefully in the Eden holy trinity for thousand years without lead. An internal conflict comes in… Let's wait for our Dragons of Eden keycap series 3.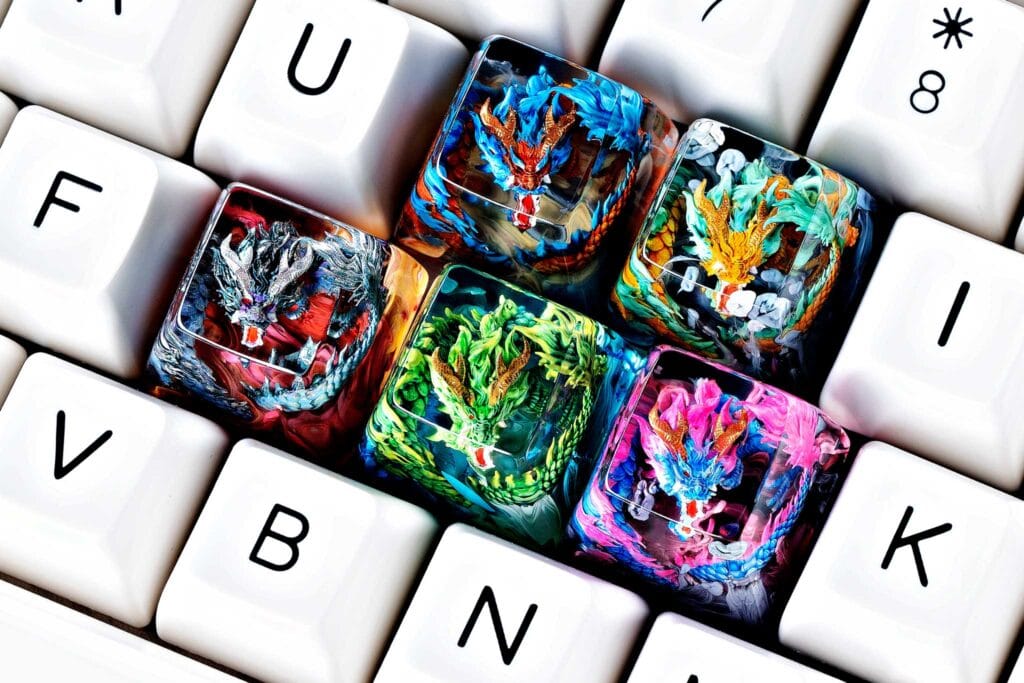 Update 3 (12/10/2022)
The colour scheme for the dragon and the EDEN effect help the dragon seem like flying (swimming) in the middle of a cloud, with foot movements like walking on clouds. I have five colours for this group-buy, and profiles SA will be the mainstay.
Besides, I will have 1u cubic profiles and introduce a new Jelly Key profile, the Droplet profile. With a design like a drop of water that collects everything inside and a circle with a curvature calculated to show the best possible spherical mirror effect. With this Droplet design, I can apply it to all keycaps size without the problem of looking too big or too small compared to the keycaps next to it, even with cherry profiles.
Update 2 (11/30/2022)
I cast the whole dragon with 2 or 3 colours, then meticulously used a contouring brush and added emulsion to some details on the dragon's body to make it look like it was moving at different angles.
The design this time is more fierce, more majestic. After a long time working and studying Asian dragon paintings from the past, I have improved the size of the dragon belly parts, with each segment having different sizes and different lengths to the feet, making things softer and more realistic. In addition, according to many requests from fans, I used more UV colours that support UV lights to add more vividness.
Update 1 (11/20/2022)
Dragon is the most design I love, you can see, after the first design of Dragon of the EDEN series in 2018, we have two other structures, and Jelly Key fans love them.
This time I used a new technic of EDEN ink and improved the design and detail of the Dragon. Better display with all collections on your keyboard, not only one keycap, full size for SA novelty. That is what I wanted in this design.