In the previous East Sea guardians series, the six Guardians successfully protected the East Sea and Eden from the vicious attack of Scylla. We will see what happens to the next generation of Guardians.
Who was the next master of Supreme Power?
One day, the six Descendants went through labour and laid fourteen eggs, among the great anticipation of the whole of Eden. They have grown up to be fourteen powerful dragons, and the mightiest of all were the two oldest ones, Aiden and Edna. They were the two best candidates for the throne: holding the Supreme Power stone and becoming the Supreme Guardian of Eden.
Aiden was the eldest of the family. He had a powerful personality, possessing the ability to control fire and earth. Aiden could make fertile barren land and put out fires raging madly in dense forests. Aiden promised all Eden residents he would be a brave warrior to keep Eden safe from all dangers. Aiden was greatly admired and trusted by his siblings. However, sometimes Aiden still cannot control his arrogance, always thinking of himself as the best.
Edna was the second eldest with her poise and great improvisational flexibility, having the power to control the rain, wind, and trees. Edna brought rain to cool Eden after sunny days, bringing the shade of cypress trees for the baby dragons to rest and play. Hence, Edna often expressed love to her siblings. Edna's talent and soul convinced the dragons of Eden and gained the trust of the six Descendants. They decided to give the Supreme Power stone to Edna and made her supreme guardian.
The bond that can't be broken
Apart from Aiden & Edna, the youngest ones – Lodsmok and Etoirir proved they have the strongest bond in the family. They spent much time having fun together, travelling from place to place to see beautiful scenery. On a trip to a volcano, the lava suddenly erupted and almost killed Etoirir. Lodsmok bravely carried Etoirir on his back and flew away from the volcano. Lodsmok then vowed to protect Etoirir from any danger at all costs.
The epic battle
Not accepting the decision of the six Descendants, Aiden challenged Edna to a duel, claiming that whoever won was the worthy owner of Supreme Power. Edna was undeterred and accepted the challenge. The two sides fought fiercely.
Aiden lifted every hill, moved mountain after mountain, and brought the fire that rose over the top of the mountains, building a firewall to stop Edna. Edna combined her strength and the power of the Supreme Power stone to create a storm that shook the earth and sky, raising the river water to extinguish the fire. Kilometre-high tsunamis struck down, flooded the hills, and spilt over the mountainside, the fire was subdued, and Eden was floating in the water.
Aiden, enraged because he knew he couldn't win, rushed to attack Etoirir to knock down Edna's fighting spirit. A large rock crashed straight down on Etoirir. Etoirir only managed to scream in fear before taking his last breath. Lodsmok couldn't believe his eyes, cried helplessly over Etoirir's body and kept saying "I broke my promise. I can't protect you."
Edna knew she couldn't hold back with Aiden, and she quickly put aside the pain of losing Etoirir, trapping Aiden deep in the ocean and nullifying all of Aiden's abilities to make sure he couldn't harm anyone anymore. "Eventually, you're the one who brought danger to Eden", said Edna.
After the battle, Edna once again proved she was worthy of the Supreme Guardian role, keeping the peace of Eden.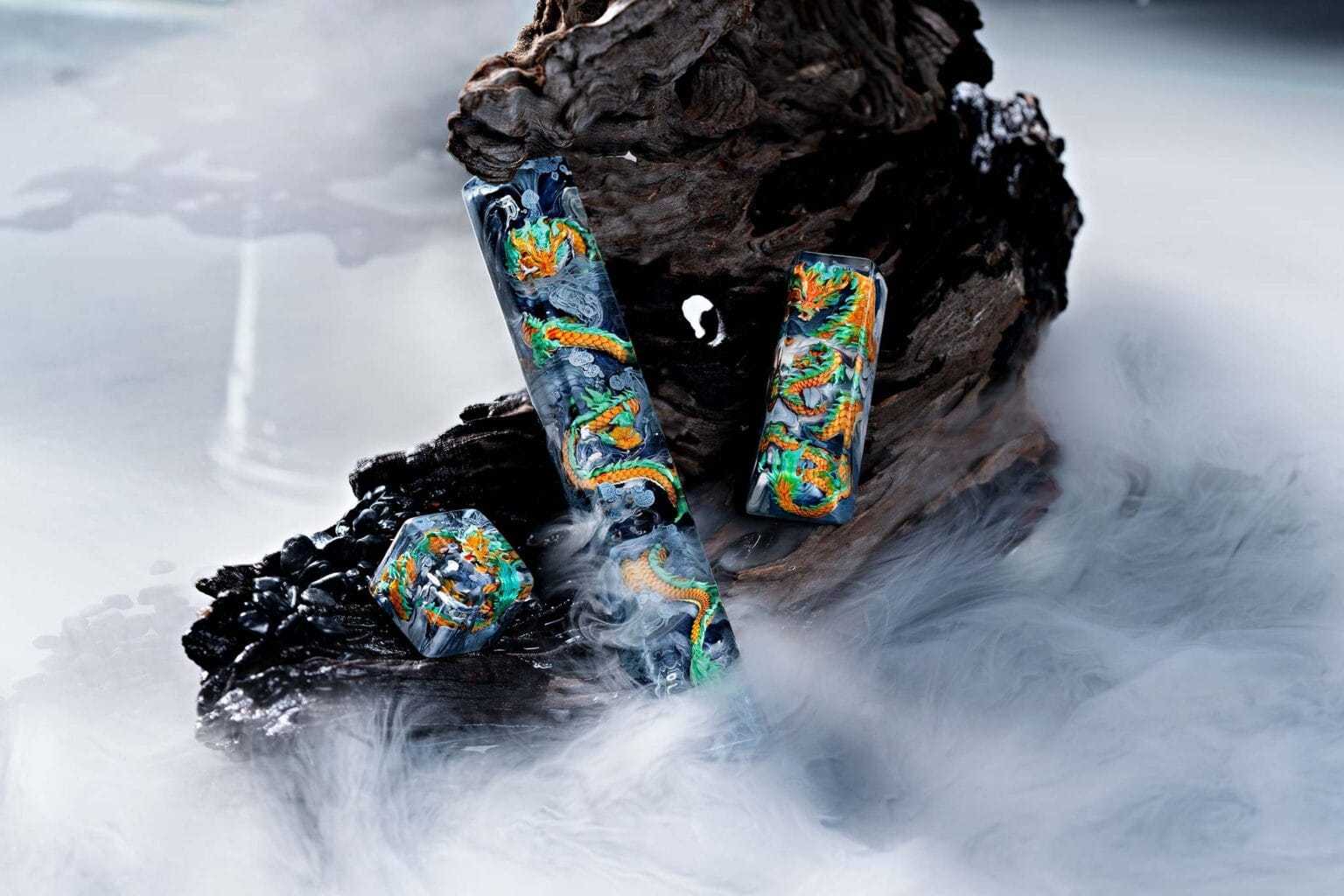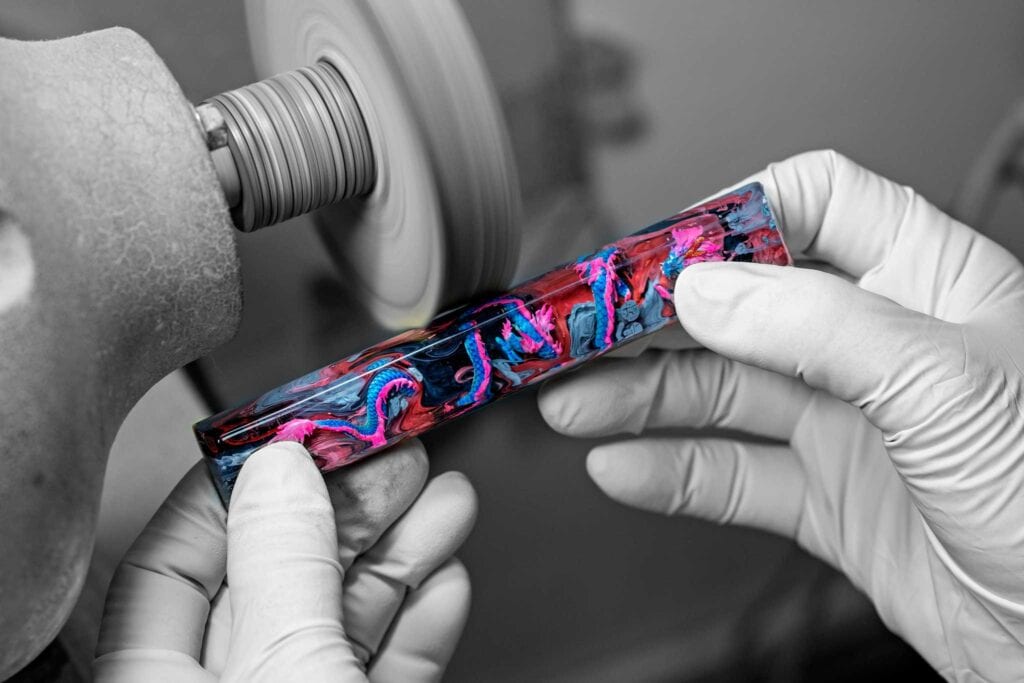 An updated profile for all keycap sizes is now available.
The design looks like a water-drop shape containing all details inside with a circle and a curve to best describe the spherical mirror effect. We call this new profile a Droplet. It can apply to all sizes but does not bring a big difference between the Droplet keycap and other keycaps standing next to it. We hope you have a better experience using this new keycap design. Your experience is an important thing that we always look at to improve better and better.
How do we complete a Dragon keycap?
The reason that makes our Dragons of Eden become one of most favourite keycaps comes from the sophisticated design. In this version 3, we continue to introduce a special design of our awesome creature in the modern fantasy world.
Since dragons aren't exactly in reality land, we portray them based on our imagination but try to show the mythical beauty and the supreme power in the design. Starting from the idea, we list down plenty of references to go around and then choose the best idea to work on further. Therefore, in our new collection, you can find different shapes and different looks of these mythical beasts. When we complete drawing them, we start to cast them to put into the keycaps. The first step is always a casting process. When we form the shape of our dragon, we color it with different layers to bring a contour effect.
It has not been done for our dragon design. Another challenging work is casting the minor parts such as the dragon's horns, mane, scales and legs. These small parts play an important role to decide how amazing our dragons are so we need to focus on them. We try to highlight the sharpness and make the contrast to the entire part of the dragon.
In addition, we apply the method of color mixing by hand-painting and airbrush painting to create a more highlighted effect on these details. We also use UV lighting effects to bring vivid color to our entire dragon.
After that, we put our complete dragon into a base for shaping and covering with resin. It takes more time to wait for it to get dried.
The ink naturally poured before the resin is completely dry is an important step to create an Eden effect and make our keycap become unique. This step normally takes about 2-4 hours for the ink drops are falling slowly one by one.
Especially, as we have different forms and sizes of the dragon, it takes several days or even weeks to complete all of them without any mistakes. If there is something wrong, we need to spend more time to start again. And of course, it needs not only time but also the patience of our team to make the most perfect one. The love of work is a motivation for our artists to deal with unexpected things.
Last but definitely not least, we never forget this indispensable step: the surface treatment after removing the keycap from the moulds. To create a glossy surface that helps to see the details inside, we need to sand the surface several times. Finally, the completed keycaps will be moved to QC check and the deliver to customers.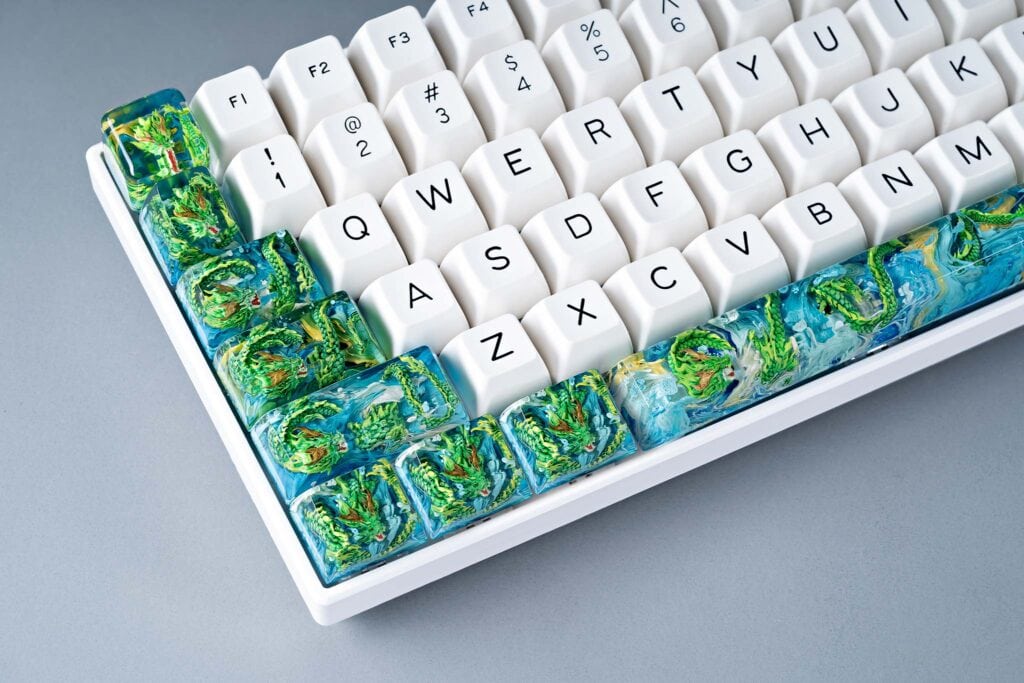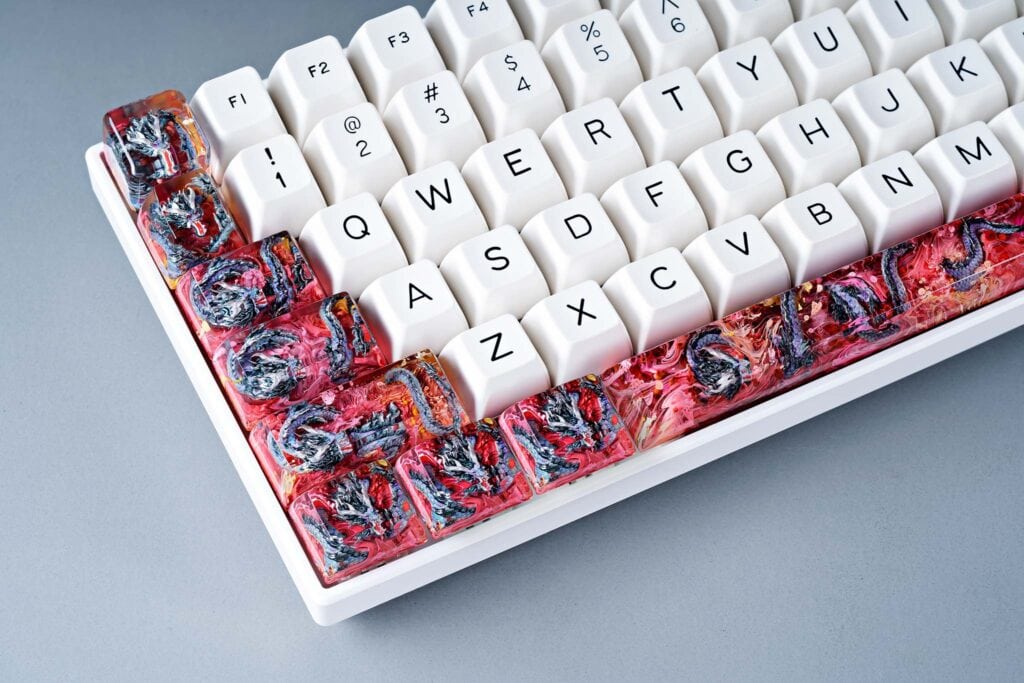 specs
MX stem
Profiles:SA R3, 1u SA R1, Droplet profile.
Keycaps size: 12 sizes (1u cubic /1u (R1, R3)/ 1.25u ctrl,alt / 1,5u tab, \ / 1.75u caps lock / 2u / 2.25u Enter / 3u Minila spacebar /2.25u left shift / 2.75u right shift / 6.25uSpacebar/ 6.5u Spacebar / 7u Spacebar)
Design and Handcrafted by Jelly Key
shipping
1u / 1.25u ctrl,alt / 1,5u tab, \ / 1.75u caps lock / 2u / 2.25u Enter /2.25u left shift / 2.75u right shift /3u
$9 per keycap if you buy one.
$12 for 2 keycaps.
$16 for 3 keycaps.
$20 for 4 keycaps.
$20 for 5 keycaps.
Free shipping for 6 keycaps or more.
6.25u, 6.5u, 7u spacebar
$12 per spacebar if you buy one.
$16 for 2 spacebar.
$20 for 3 spacebar.
Free shipping for 4 spacebars or more.
group-buy information
Open time: 12/17/2022
Close time: 12/24/2022
Starting to Deliver after Groupbuy close: earlier than 90 days.
We could close the GB sooner than expected. So take your chance as soon as you can.
what is in the box?
1 keycap by Jelly Key.
01 Medal dog tag with engraved unique series number.
A unique serial number is on the bottom of the keycap as well.
sidenote
The keycap was made entirely by hand and tool. The final product may vary from the original photos but at an acceptable aspect. We would love to ask you to tolerate any reasonable differences.
With each artisan keycap from Jelly Key, we offer you a one-on-one replacement if there is a fault that causes by our artisan team. Feel free to contact us.