We have 10 keycaps sizes and 5 designs (and one limited for gift only) in this collection.
1u – Cubic profile
1u – SA profile R1
1u – SA profile R3
1.25u – SA profile R3 – "Ctrl/fn/Alt/Win"
1.5u – SA profile R3 – "Tab/|\"
1.75u – SA profile R3 – "Caplocks"
2u – SA profile R3 – "Backspace"
2.25u – SA profile R3 – "Enter/Left-shift"
2.75u – SA profile R3 – "Right-shift"
6.25u – SA profile R3 – "Spacebar"
Dragons of

E

d

e

n

– East Sea's guardians
In the last series, we learn how the East Sea and the Eden world witnessed the "Birth of the Legends" – the moment when the eggs of the mighty trio dragon Dranimus, Drapalala, and Drapartum hatched. The story entails what happens to the East Sea after that.
Quest of danger
The 7 Descendants have grown up to become vigorous dragons, tied with specific powers representing the most vital elements in the Eden world. They decide to go separate ways to conquer other mysterious lands hidden around Eden, leaving behind an unprotected East Sea. But little do these descendants know; they don't just simply go on an adventure quest; they leave a catastrophe waiting to happen.
History pays back
Let's go back to a thousand years ago to unfold the cause. At that time, the East Sea was still guarded by three brothers Dranimus, Drapalala, and Drapartum – the fathers of the Descendants. With their mighty blessings, this ocean was as peaceful and thriving as it could. But that was before the rise of Scylla, a three-headed dragon beast that the Eden gods cursed because of its wrongful doings over a thirst for power. It managed to break the curse and turn into an even more evil monster than it already was. With the ability to breathe poisons and three heads control, Scylla brought the dawn of terror and death to the East Sea.
Couldn't ignore the beloved homeland being massacred like that, the three dragons fought together against Scylla. One took each of the evil beast's head and used their strength to create an amulet that can control Scyllas's core power. They kept it at the East Sea's floor, where Scylla was chained together with the amulet. With the harsh environment of the seabed and the sacred force infused by 3 brothers' essence from their amulet, Scylla was defeated. But not for good. Ten centuries later, the amulet's power started to wear out, giving way for Scylla to break free and once again start an apocalypse at the East Sea.

Lesson from the past
The 7 Descendants immediately rush back to their home as soon as they hear the news. Learning the lesson from history, they are certain that they can't fight Scylla by mere force. They need to seek power from a much greater mastery to win this battle. Looking at pieces of the past, the Descendants see a pattern. Their fathers had joined hands to cast an amulet that can dominate the three-headed evil dragon. What if they, together, can also forge a dragon stone that is powerful enough to destroy Scylla once and for all?
Forging field of magic
The oldest Descendants have Fire, Water, Earth, and Air control power – all basic elements of nature. The second brother, Drapalala's offspring were born with a magical twist of power induced by volcanic eruptions and plasma gas. And the youngest Descendant possesses the ability to use his older siblings' strengths with empathy and compassion. Altogether, they fly to the highest mountain of Eden and set up a forging field to cast their power into a stone. The whole Eden world starts shaking, the grounds break with series of cracks running from the mountain. Up in the sky, a glowing cluster of clouds twists abruptly and launches a massive light beam into the middle of the field. Slowly, a shiny blue stone is starting to form.
The battlefield
After forging the stone, the 7 Descendants use it to confront Scylla. The monster has grown too strong, but it can't fight the power of the dragon stone. It is the ultimate weapon created by the united power of the Descendants, strengthened by love and justice. An evil heart with extreme power greed like Scylla's will always lose. The fight shakes the whole Eden world, where 7 mighty dragons surround three heads of Scylla with continuous attacks from both sides. The oldest Descendant – with the power of Fire, has made the final move to destroy Scylla's heart. But as the monster is about to die, it swings its spiky tail into the dragon's heart and kills him instantly. The remaining 6 Descendants mourn the death of their oldest brother and vow to always protect the East Sea at all cost.
Once a guardian, always a guardian
Peace once again is restored at Eden under the protection of the 6 Descendants. The dragons are now mightier than ever with the power from within and the force from outside. They are now known as the Guardians of East Sea.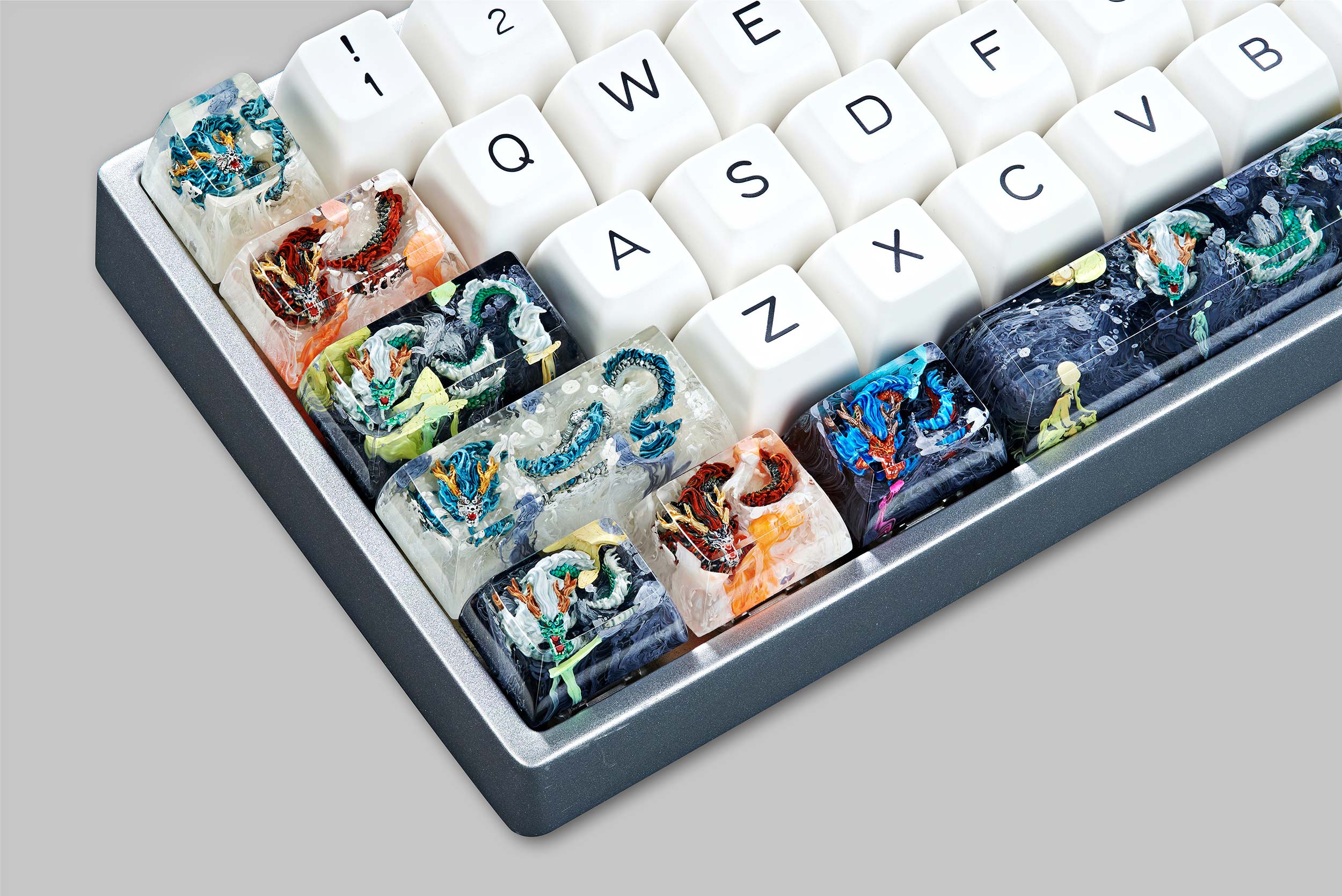 How the dragons come to life
These guardians have to come through a lot before they can be ready to deliver to you. Let's check out how they are made, especially with the Eden effect!
Eden's at it again
It has always been a great challenge for us when making keycaps in Eden effect. As you might know, this special effect exclusively created by Jelly Key team has a remarkably harmonious imprint. Each keycap has a unique effect thanks to different deposition times, awaiting temperatures, and color fusion.
It takes the Pouring Art of mixing alcohol ink with resin to produce this magical series. The reaction of alcohol ink in resin brings a floating effect through its elegant fluids. What's more interesting in this sequel collection of Dragons of Eden is we are able to create many different color ranges with a new technique. In total, we have 5 color options, each comes in 9 sizes. That's a lot of Eden-colored designs!
Casting and coloring: it takes time!
We cast the pieces of the dragon body in approximately 8-10 hours. The base casting takes roughly the double amount of time and we also need to wait for them to hard. When they're ready, we move on to the next step: coloring.
For the complex details such as the dragon's horn, tail, scale, etc., we apply the method of color mixing by hand-painting and airbrush painting to create a more highlighted effect on the pieces.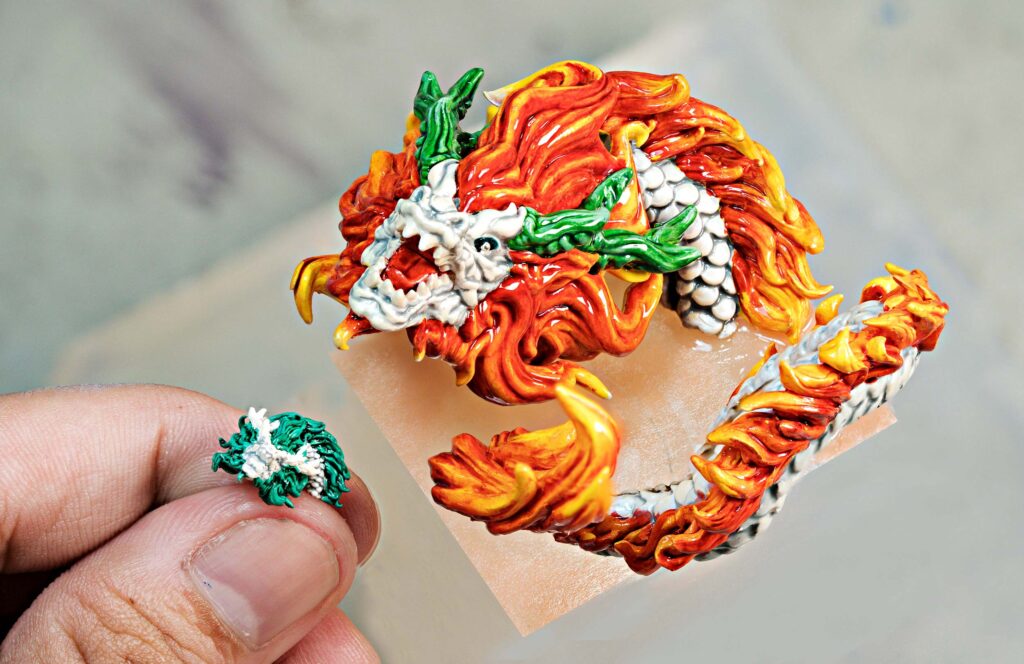 Shipping
1u / 1.25u ctrl,alt / 1,5u tab, \ / / 1.5u /2u / 2.25u Enter / 2.75u right shift
$9 per keycaps if you buy one.
$12 for 2 keycaps.
$16 for 3 keycaps.
$20 for 4 keycaps.
$20 for 5 keycaps.
Free shipping for 6 keycaps or more.
6.25u spacebar
$12 per spacebar if you buy one.
$16 for 2 spacebar.
$20 for 3 spacebar.
Free shipping for 4 spacebars or more.
Specs
MX stem
Backlit
SA profile R3, 2u, 2.25u, 2.75u
Design and Handcrafted by Jelly Key
Group-buy information
Open time: 9/23/2021
Close time: 9/30/2021
Starting to Deliver after Groupbuy close: early than 80 days (you can see our post about working time improve and maybe delay because of COVID lockdown)
We could close the GB sooner than expected. So take your chance as soon as you can.
What is in the box?
1 Dragon artisan keycaps by Jelly Key.
01 Medal dog-tag with engraved unique series number.
01 Wooden box.
A unique serial number is on the bottom of the keycap as well.
Sidenote
The keycap was made entirely by hand and tool. The final product may vary from the original photos but at an acceptable aspect. We would love to ask you to tolerate any reasonable differences.
Due to the random effect of the colour background created from "magic" ink – we kindly remind you again that what our artists can control.
With each artisan keycap from Jelly Key, we offer you a one-on-one replacement if there is the fault that causes by our artisan team. Feel free to contact us.