But not only the house, Jelly Key witches and wizard turned the whole woods into sweets and treats. You can wandering in the wood, and taste everything from butter cake, chocolate, brownies. Drink the strawberry or liquorice juice streams. The cotton candy on the branches of fudge trees. You won't want to miss the toffee or almond paste. Candy can or lollipop? Frozen yogurt bars or sherbet, pudding and blancmange, swiss-roll and poppy seed scone. We can feel you're drooling. Let's get into the wood.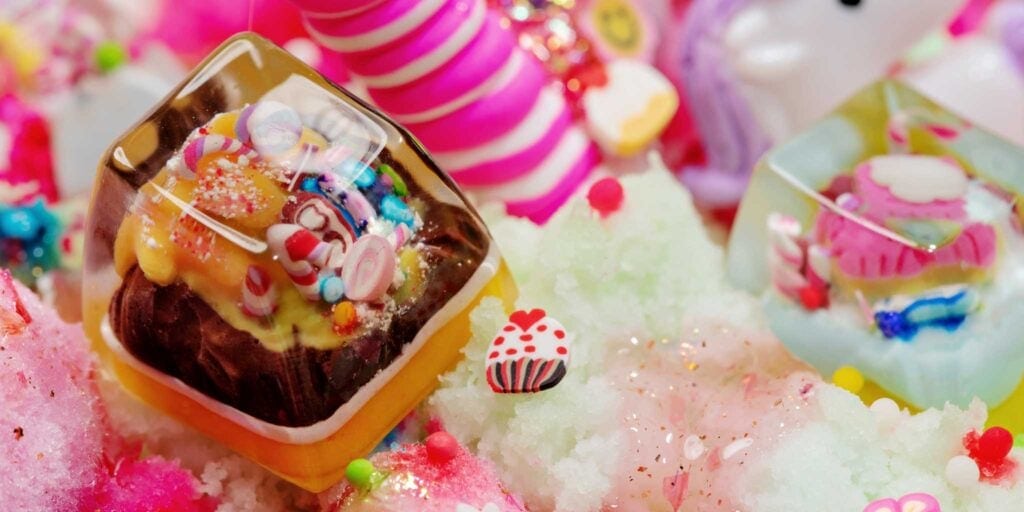 We should admit that almost all of us who had been told the folks of Grimm brother would be very obsessed by the folk name Hansel and Gretel
The story about two little brother who were abandoned in the wood by their father and the step-mother according to the step-mother that would help reduce the mouths in the family and both of the adults won't be starved of lacking food. They wandered in the wood and found a house make of treats and cakes that make to hungry kid couldn't help themself from devouring the cake house. They thought they were lucky until the lady who owns the house, after luring them into the house and treated them with food and hot bath, locked Hansel in the cage with the purpose to cook and eat him. That cannibalistic witch force Gretel to do her house chore everyday. But fortunately they escaped by outwitting the witch and run back to their daddy with a vase full of treasure they found in the house. The step-mother had died by dubious reason so two clever kids and his father live happily ever after.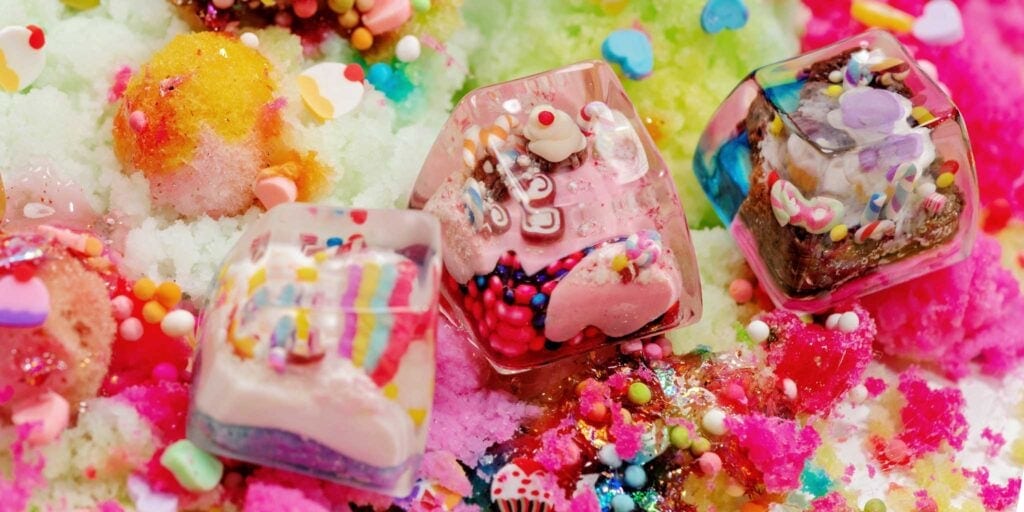 That's the plot, but, we think of the point that not all of us could remember the names of two little kids but obsessed by the house made of cake. That was genius, just wonder how, two little brother Grimms, locked in the house in their childhood days could imagine that piece then haunt every generation which knew their story. Even the concept of the cake house was use was used repeatedly in many movies, cartoon or anime,and no exception, in the Confectionery Woods artisan keycap series.
The confectionery woods – as its name – is a luscious wood where all woods and rocks and the rest are made from sweet and cake. But the process of making them was not that sweet though.  We had to spent dozen hours to assort the sweets and cake as well as their colors. Finally there were an almond paste volcano, a small village in the wood and the land of sweet macaroni rainbow at the end of the juice streams.
Each couple keycap of the series were made with different steps. And here is how Jelly Key artist grow them.
Milk Berry Sundae and Mint Berry Sundae couple
A sprinkle stream was first casted at the bottom. A layer of cream milk or mint milk are covered next. Then we put a sweet macaroni rainbow sculpted from clay above the streams. Then fill up the springside with lollipop and sweets.
Liquorice and Plumy streams are the same with first step making of the Berry Sundae couple. But  they got a milk cream string cast with with epoxy surround the minty mousse and clay fruits sprode on their surface.
Fresh Bake Village couple includes Blancmange house and Liquorice Jam Overload. Cake houses are hand sculpted and casted with assorted colors. Lollipop and candy cane, waffle are hand sculpted from Japanese clay.
Choco fudge and Raspberry Trifle are almond paste volcano which lava are made from almond paste lava and mountain body are made from choco fudge and raspberry trifle. Lolly are coveredon the surface of the mountain.
All candies, sweet stuff, cream and cake houses are hand sculpted, piece by piece. And sticked together in each individual keycap. Finally they would be casted with glorious transparent resin and flourished until they're smooth and shine.
Because of the meticulous requirement of the design, we won't sale this artisan series in large number to make sure we can carefully handle with each keycap.
Group-buy information
Open time: 8/29/2018
Close time: 9/2/2018
Starting to Deliver after Groupbuy: 60 days
We could close the GB sooner than expected. So take your chance as soon as you can.
Specs
Backlit
SA row 1 & Cherry profile 
MX stem
Design and Handcrafted by Jelly Key
What is in the box?
Confectionery Woods artisan keycap by Jelly Key.
01 Medal dog-tag with engraved unique series number.
01 Wooden box.
A unique serial number is on the bottom of the keycap as well.
Sidenote
The keycap was made entirely by hand and tool. The final product may vary from the original photos but at acceptable aspect. We would love to ask you to tolerate any reasonable differents.
With each artisan keycap from Jelly Key, we offer you a one-on-one replacement if there is fault that causes by our artisan team. Feel free to contact us.