This collection have 6 sizes (1u Cubic / 1u SA R1/ 1.75u caps lock R3 /  2u backspace R3 / 2.25u Enter, left-shift R3 / 6.25u Spacebar)
In the previous series of the epic rehabilitation of lost cities, we learn it's the Phaethon Impact created by a massive collision with Earth that once again altered the world order. This critical mayhem broke the continent's linkage, formed many new lands, and as terribly as destroying cities all over the world. The Earth we once knew was gone, giving rise to a new era known as the Lost Cities Age. Now we would like to take you to a place among these ruins, where the survivors of the Giant Impact made an escape to and gradually built a nuclear-based civilization: Basem –City of Catastrophe.
The cause of everything
It all starts with a civil war, accelerated by an unbroken hostility between the ruler and the constantly suppressing people. The government of Basem is run by a corrupted policy supported by a supreme dictatorship so its people hardly have the chance to afford a democratic life. The irony here is this city is established by the Phaethon Impact's survivors, so it's supposed to become prosperous and glowing and as it should have been. But sometimes the truth can be ugly. These Basem creators turn out to be the mad tyrants, thirsty for power and feasting on the fear of their own people with their evil government.
How it's destroyed
What goes around comes around. An army of highly organized insurgents is established to fight against this wicked regime. Realizing that the government military uses ultramodern lethal weapons with an extremely high level of damage, the insurgents know they must be well-prepared. They start to build self-made attack and defense robots embedded with high-tech control panels to combat the government and take down the dictatorship. The day when the war happens is the day when two armies of killing machines start to collide. At this point, it's very likely that the aftermath should be beginning to dawn on you. Basem is savagely destroyed to a level that nobody can ever imagine how it used to be extraordinarily flourishing and triumphant.
How it's destroyed again…
But that's just the beginning of the tragedy. A series of catastrophes arrive in Basem, worsening the city into 4 different scenes: tsunami, ice age, meteorite storm, and nuclear disaster. It seems that the civil war has triggered every potential danger lurking inside Basem all this time. We're talking about both man-made and natural disasters, which hardly ever happen at the same time in history on Earth. The tsunami comes and wipes away everything in its path, reaching up to an area of 5000 square meters. Many neo buildings once formed the busiest neighborhood in Besem central district, now are left with empty floors and missing roofs. Then the harshest cold wave comes flooding in, to create what is later known as the "Modern Ice Age". This causes the Earth's atmosphere to become extremely dense and a severe drop in temperature. In short, everything is freezing. It's not surprising at all to see glaciers covering almost the entire city. Nobody can survive this biting cold without proper garments or heating gadgets.
…and again
That's not all. Seasonal meteorite storms now arrive more often. Every time it comes, it comes with a shift in the sky color and hundreds of fireballs entering the Earth at a speed of 72 km/sec. These meteoroids are extremely dangerous when carrying such huge heat and traveling like a bullet. They can easily take down a high-rise building or even a stadium with a capacity of 150,000 people. One single impact event like this can release the energy of several million nuclear weapons exploding simultaneously. Speaking of which, Basem City is a nuclear-based civilization, which means the city is essentially operated by nuclear power. Although it is as advanced as it can be, the price to pay when it fails is too high. As the nuclear plants are destroyed, the radiation level escalates so quickly that all Basem people are infected, the difference is just how bad they are.
Will it be saved?
The abandoned city of Basem now is split into 2 parts, the East and the West side. People are hiding deep in the remaining forests, the only places that can provide life in Basem. Will there be, or will there not be a child born with a universal destiny to save this ruined city and restore it to what it was once before? Like an old prophet has said before she was killed by the meteorite storm?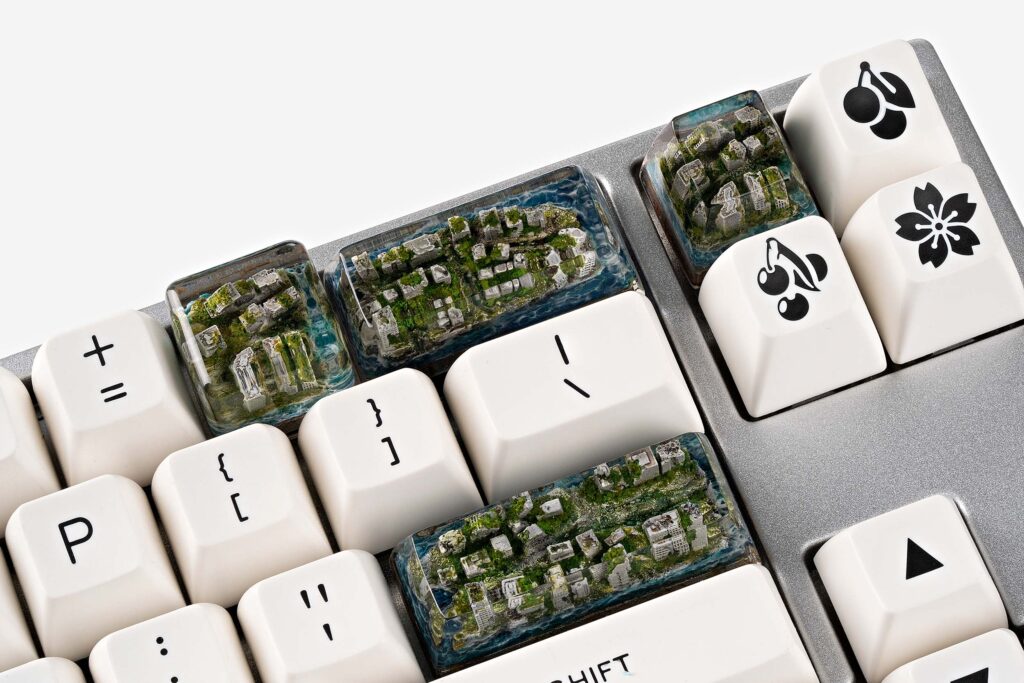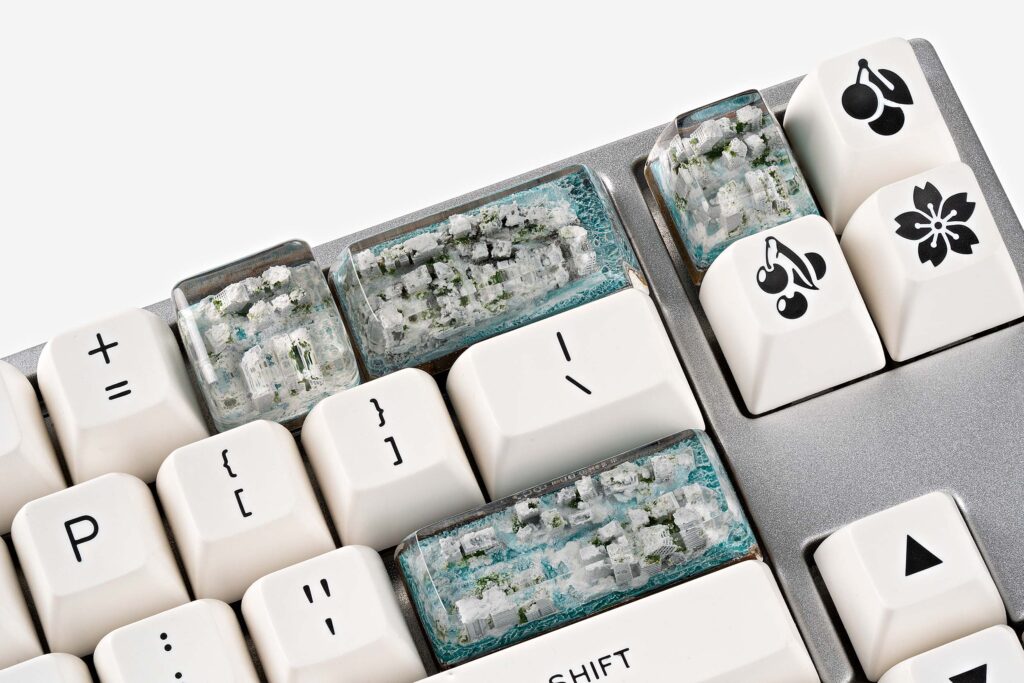 specs
MX stem
Profile:6 sizes (1u Cubic / 1u SA R1/ 1.75u caps lock R3 /  2u backspace R3 / 2.25u Enter, left-shift R3 / 6.25u Spacebar)
Design and Handcrafted by Jelly Key
shipping
1u/1.75u/2u/2.25u
$9 per keycaps if you buy one.
$12 for 2 keycaps.
$16 for 3 keycaps.
$20 for 4 keycaps.
$20 for 5 keycaps.
Free shipping for 6 keycaps or more.
6.25u spacebar
$12 per spacebar if you buy one.
$16 for 2 spacebar.
$20 for 3 spacebar.
Free shipping for 4 spacebars or more.
group-buy information
Open time: 7/12/2021
Close time: 7/19/2021
Starting to Deliver after Groupbuy close: early than 80 days.
We could close the GB sooner than expected. So take your chance as soon as you can.
what is in the box?
1 keycaps by Jelly Key.
01 Medal dog-tag with engraved unique series number.
01 Wooden box.
A unique serial number is on the bottom of the keycap as well.
sidenote
The keycap was made entirely by hand and tool. The final product may vary from the original photos but at an acceptable aspect. We would love to ask you to tolerate any reasonable differences.
With each artisan keycap from Jelly Key, we offer you a one-on-one replacement if there is the fault that causes by our artisan team. Feel free to contact us.