Each keycap box will include one random sticker from our collection of 9 different art.
Stand Boy is available as a gift for orders of more than 11 keycaps, or you can purchase it separately here.
All orders of big art toy TV (x77, x32) or a full set of 1u keycaps will receive a full set of stickers (9). Please take a look at the description below the option for more details.
The Poong design will be shipped as a gift to customers who buy more than 11 keycaps.
All product photos are genuine, not 3D renders, and our keycaps are handmade with resin casting and multilayer colouring, not 3D printed.
In the vibrant world of 2023, technology is advancing rapidly, but the love and nostalgia for classic arcade games still live on in the hearts of gamers. To honor those memories and bring a new experience, Jelly Key has developed the Retro TV series – Arcade Cabinets 3.0: Virtual Frontier.
In this series, we witness an intriguing fusion of the classic and modern world. The unique arcade cabinets with transparent casings allow players to see the intricate machinery. This combination creates a distinct and captivating experience for players. However, the true story begins when players touch the keyboard and enter a new world. By touching the unique keys of Virtual Frontier, time stands still as players embark on an exciting adventure. Each key represents a famous game from the 1990s, from thrilling fighting matches to dramatic explorations.
Modern design, larger screens
With Virtual Frontier, players become the main characters of legendary games and experience the perfect blend of classic and modern elements. Every press of a key emits a joyful sound of childhood memories, transporting players back to the sweet era when arcade games first emerged.
Virtual Frontier combines modern design with larger game screens. Each arcade cabinet serves as a gateway to colourful and rich virtual worlds. You can engage in thrilling, high-speed races on captivating tracks, with scenes of fast-paced racing, skilful drifting, and vibrant sounds from the screen, creating a sensation of actually driving on the racetrack.
If you aspire to be a brave pilot, enjoy the game of shooting down enemy aircraft on the large screen of Virtual Frontier. You will participate in intense aerial battles against adversaries. The dynamic destruction and evasive maneuvers amidst a barrage of bullets will transport you to an imaginative world of combat you will never forget!
Reborn legendary arcade games
Arcade Cabinets 3.0 is a collection of unique keys and a gateway to a marvelous virtual world where legendary arcade games are reborn, immersing players in the marvel of technology. This product line brings together the past and the future, combining childhood memories with the advancements of modern technology. With Virtual Frontier, We explores and creates a harmonious fusion of two worlds, crafting a unique story exclusively for gaming enthusiasts.
With superb craftsmanship and attention to detail, Jelly Key pushes the boundaries of creativity and delivers unique experiences for players. Join the Virtual Frontier journey, and you will always hold a cherished memory of childhood and a love for games in your heart, an invisible bond between the past and the future.
Arcade Cabinets 3.0: Virtual Frontier – opening the doors to the intellect of childhood and gaming passion and the marvels of modern technology. Get ready to step into the world of Virtual Frontier and become a legend in the hearts of fellow gamers.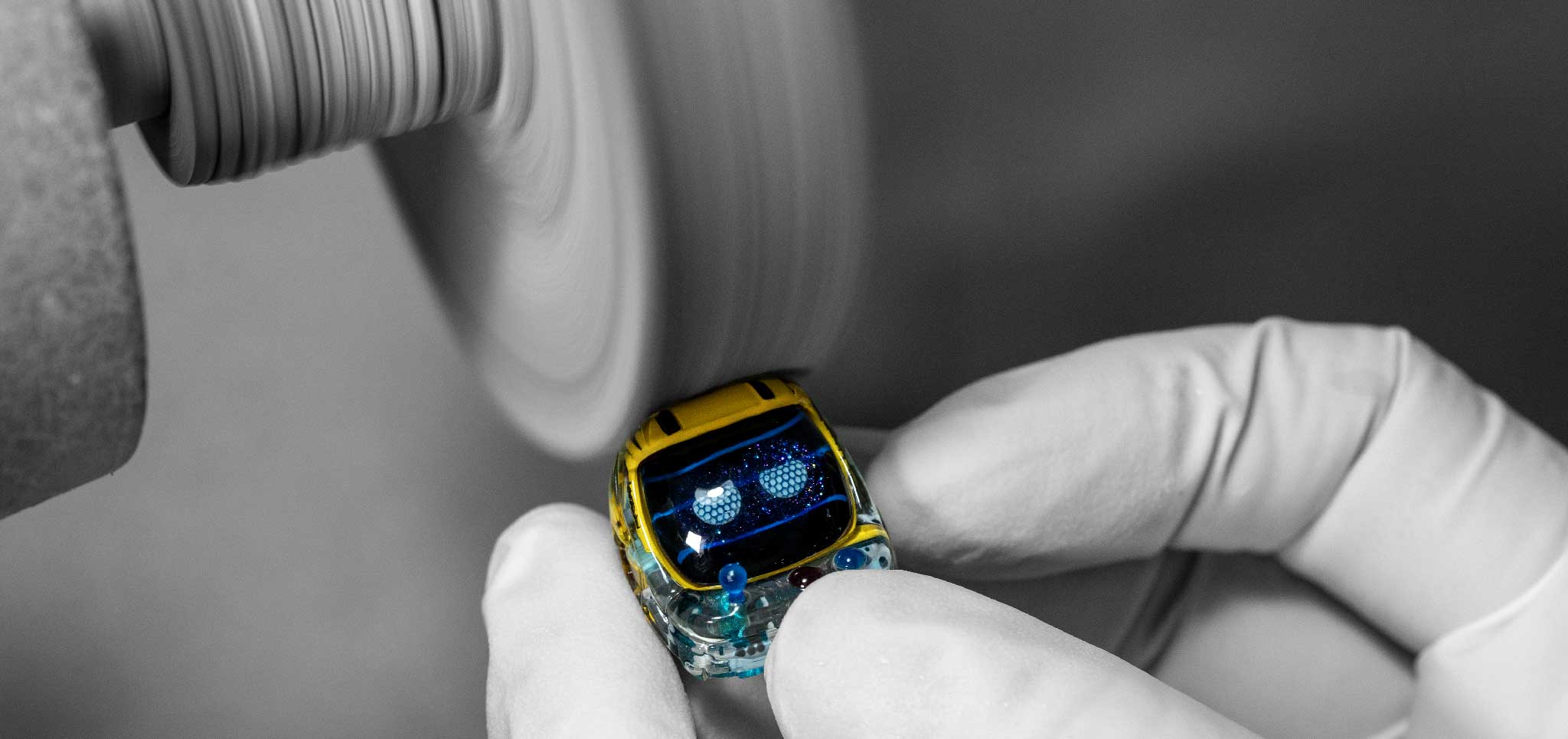 Crafting the Arcade Cabinet: A tale of resin casting and gaming wonder
While creating an Arcade Cabinet using resin casting, we underwent several meticulous steps to achieve a complete product.
We sketched and designed detailed components for the Arcade Cabinet from the initial creative ideas. The internal machinery details were crafted to recreate authenticity and provide an immersive experience for players.
Layered casting: Crafting a perfect arcade cabinet
Next, we processed the prototypes and created silicone molds for resin casting. There were 12 different molds for the 12 component types, including the keycap base, each component was cast in layers of different colors, with drying and bonding time between each layer lasting 4-8 hours. This process required precision and patience to ensure the quality of each individual part. The components were carefully removed from the molds and thoroughly cleaned after 16-24 hours for the final resin layer to fully dry. They were then assembled meticulously to form a complete Arcade Cabinet.
Translucent brilliance: Illuminating keycap design and captivating screen content
An essential aspect of the design was the transparent stem of the keycap, allowing light to shine through from beneath and highlight the internal components. Additionally, the cabinet body had 9 options with over 50 blended color variations, creating a unique and captivating effect for players.
Furthermore, we created 11 different designs for the screen content on the TV display. Each screen content was cast in resin, focusing on intricate details, and coated with a transparent resin layer for brightness and durability.
Overall, creating an Arcade Cabinet through resin casting required significant effort and time. However, the result is a complete product with the game cabinet, screen content, and joystick, providing players with a distinctive and fantastic gaming experience.
The exquisite marvel: Art toy x32 & x77 – Exclusive Release
Experience an even more captivating reality with the Art toy x77, meticulously designed to surpass your expectations. While preserving the essence of the original keycap version, this exclusive release proudly showcases an impressive size.
Similar to our previous designs, the x77 version boasts 77 times the volume of a 1u keycap (its underside measuring 74mm, four times longer than a 1u keycap).
Due to the larger size of these pieces, we had to put in extra effort compared to the 1u keycap in terms of resin casting and color blending. The casting process for each piece takes twice the time compared to our usual process, if not three times as long (averaging around 8 hours to dry). During each layer casting, if the first layer isn't completely dry, applying the second layer may result in mixing or even damage to the mold due to insufficient drying for proper adhesion.
Creating intricate details for this larger-scale art toy demanded a unique production method and a specially designed mold. Our team also took great care to create a profound sense for the TV screen, allowing you to perceive the internal details more clearly and enjoy the light emitted from the keyboard, providing an inspiring view of the magnificent outer space in this keycap design.
We still utilize a wooden block for packaging, but it needs to be larger. Choosing the wood for our round box posed greater challenges in terms of surface quality and block thickness. This had to be executed with strict requirements to achieve consistency between the lid and the body of the box. The edges of the large wooden box have been further rounded to enhance the tactile feel.
You must be thrilled about this extraordinary addition to the collection!
Stand boy for TV display
Introducing our versatile Magnetic Stand Boy Holder from the Arcade Cabinets 3.0: Virtual Frontier collection. This meticulously handcrafted holder is designed to showcase a 1u keycap, adding an exquisite touch to your desk setup. Not only does it serve as a functional holder, but it also doubles as a stunning decorative piece. Stand Boy features a magnetic base and cushion pad.
With its clever design, the Stand Boy can be effortlessly attached to a chair or easily detached for placement in your preferred positions, such as next to your keyboard or mounting on the side of your TV screen. How cool is that?
Experience the ultimate coolness with our Magnetic Stand Boy and elevate your keycap game to new heights. Take the opportunity to transform your setup into a visually stunning and customized masterpiece.
As a special offer, when you purchase 8 Arcade Cabinets 3.0: Virtual Frontier keycaps from this groupbuy or buy them separately, you will receive a complimentary Stand Boy as a gift. Take advantage of this opportunity to enhance your collection and elevate your gaming experience with the remarkable Magnetic Stand Boy Holder.
Virtual Frontier 

Stickers
Each keycap box will have one random sticker from our collection of 9 designs. If you purchase 9 keycaps, you will receive a complete set of stickers without duplicates.
Please note that we have limited sticker sets available for this group buy, as we print and cut them ourselves. We recommend placing your order early to ensure you receive a set of stickers with your purchase.
Unlock the excitement with our exclusive sticker collection! Each keycap box includes a random sticker from our stunning selection of 9 unique designs. And here's the best part: if you collect 9 keycaps, you'll receive a complete set of stickers, ensuring no duplicates!
But hurry! We have a limited supply of sticker sets for this group buy, as we meticulously print and cut them in-house. We highly recommend placing your order early to secure your collection of stickers. Take advantage of this opportunity to enhance your Arcade Cabinets experience!
All combination for preview
Due to the numerous design variations and TV content options available in this group buy, it is not feasible for us to capture images of every single option. You can see detailed choices through the accompanying images.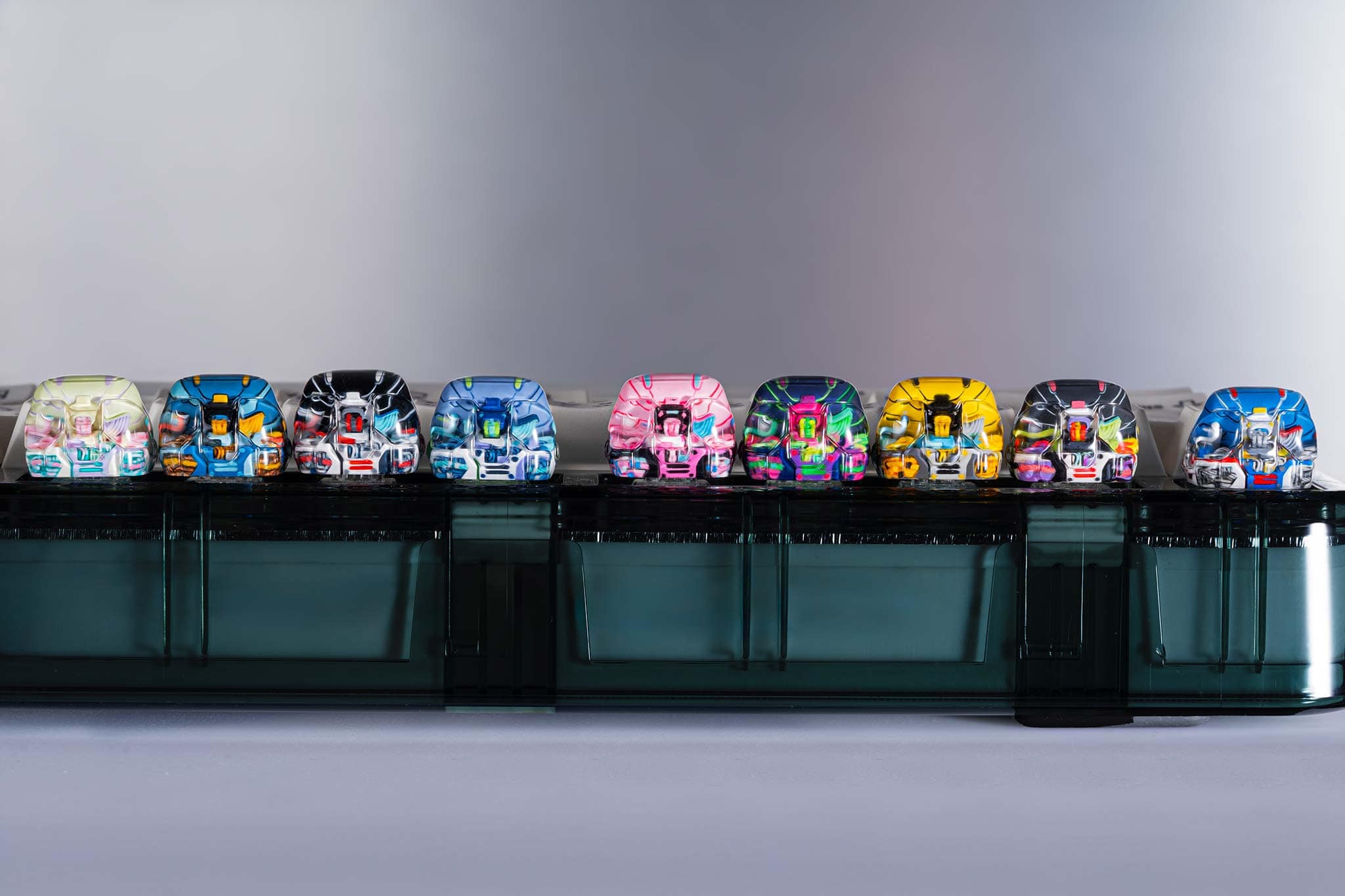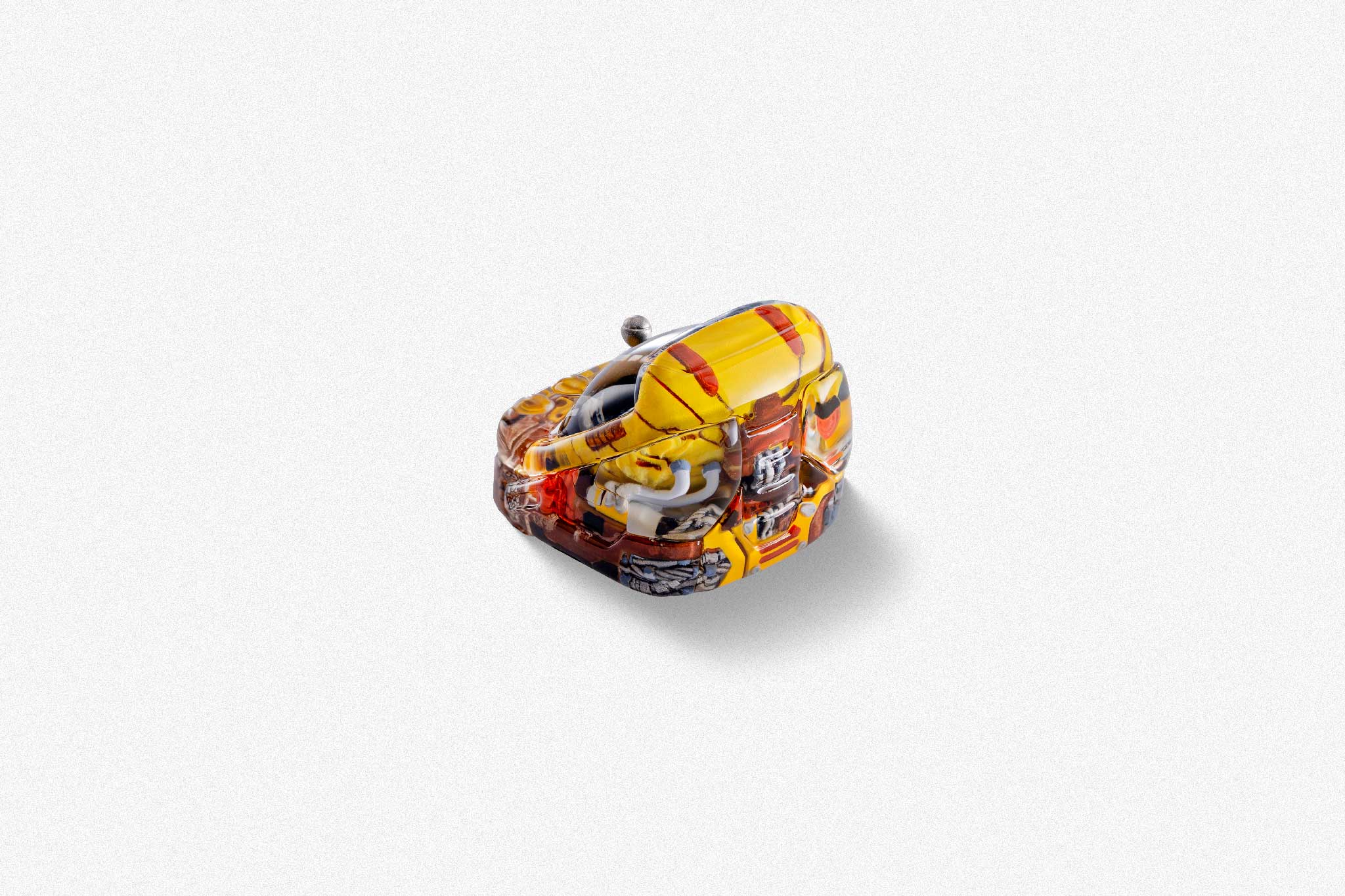 specs
MX stem
Profile: 1u keycaps
Big keycaps x32: 55.5mm x 55.5mm x 44mm (63.7cm3)
Big keycaps x77: 74mm x 74mm x 58.4mm (145.8cm3)
Design and Handcrafted by Jelly Key
shipping
1u keycaps
$9 per keycap if you buy one.
$12 for 2 keycaps.
$16 for 3 keycaps.
$20 for 4 keycaps.
$20 for 5 keycaps.
Free shipping for 6 keycaps or more.
Big keycaps (art toy)
$16 per keycap
Free shipping for 2 big keycaps or more.
group-buy information
Open time: 7/15/2023
Close time: 7/22/2023
Starting to Deliver after Groupbuy close: earlier than 100 days.
We could close the GB sooner than expected. So take your chance as soon as you can.
what is in the box?
1 keycap by Jelly Key.
01 Medal dog-tag with engraved unique series number.
A unique serial number is on the bottom of the keycap as well.
sidenote
The keycap was made entirely by hand and tool. The final product may vary from the original photos but at an acceptable aspect. We would love to ask you to tolerate any reasonable differences.
With each artisan keycap from Jelly Key, we offer you a one-on-one replacement if there is a fault that causes by our artisan team. Feel free to contact us.