We have 5 keycaps designs and ~11 sizes for each OEM/SA/Cherry.

1u – (All profiles)
1.25u  – "Ctrl/fn/Alt/Win" (All profiles)
1.5u – "Tab/|\" (All profiles)
1.75u  – "Caplocks" (All profiles)
2u – "Backspace" (All profiles)
2.25u – "Enter/Left-shift" (SA R3)
2.25u – "Enter" (Cherry R3 / OEM R3)
2.25u – "Left-shift" (Cherry R4 / OEM R4)
2.75u  – "Right-shift" (All profiles)
3u – "Spacebar" of Filco Minila (Cherry / SA R3)
6.25u  – "Spacebar" (All profiles)
6.5u  – "Spacebar" (Cherry / SA R3)
7u  – "Spacebar" (Cherry / SA R3)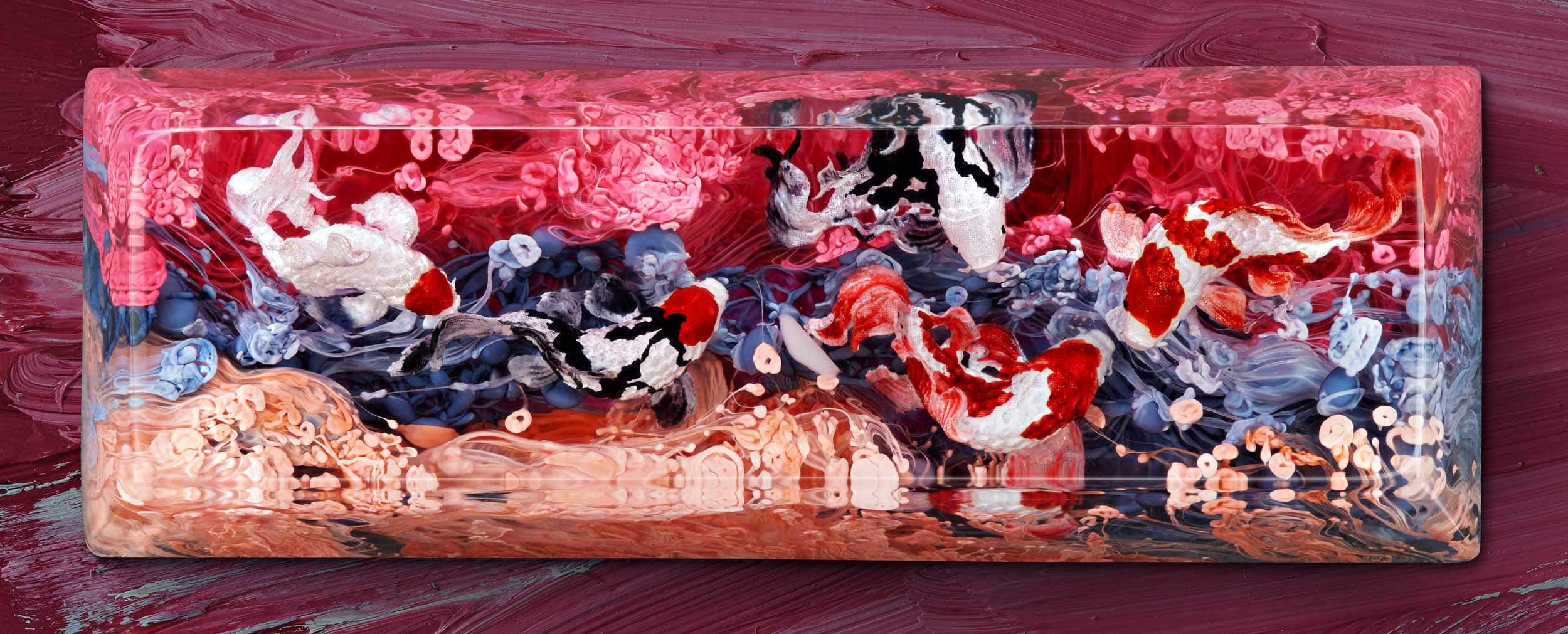 The origin of Koi fishes has been wildly popular in Japan and China, symbolizing a spirit of strength and perseverance, not to mention their meaning of good fortune, success, prosperity, and ambition. You know the story. So today, why not dive into the tale of Koi in the Eden world of Jelly Key? It's a genuinely different yet extraordinary story, we promise.
Who are the artists?
If you are a Jelly Key fan, it is very likely that you already know what types of magical creatures are living in the Eden world: Dragons, Betta, and Koi. Each of them has a specific role and duty to make Eden a more heavenly place than it already is. But these creatures are not the only ones guarding this entrancing land as it is such a boundless fairy place where the most divine beings stay and rule the other worlds. There must be someone to train and control the creatures, given their incredible superpowers. They are the mighty gods and goddesses with the most powerful magic of all, choosing the creatures as their sidekick partners to give Eden ultimate protection.
Zen Pond, the place to be
Surprisingly, the Eden gods show a great interest in drawing, especially with watercolors. They may have divinity, but they also learn a hobby from the mortals! Artists need to have something to spark their inspiration, and there's no place that is more perfect than the Zen Pond. With its poetic water scene dotted by picturesque cherry flower trees to add a rosy touch, the pond has gradually become a place where the gods often gather around to create their work of art. Sitting by the shore of Zen Pond early in the morning and they can easily get inspired by the beautiful light of dawn, the birds leaving their nests to find food, or just simply the nature around this lovely pond.
What is underneath the water?
But these apprentice painters haven't got accustomed to using watercolors, so they usually drop these colored liquids into the pond when painting. Little do they know that the carp living inside the pond will absorb the colors thanks to its magical Zen power, creating a whole new look for them! When dropped into water, the paints will be in a floating motion with magnificent and distinctive flows, all of which are fortunately attached to the carp's skins. They are "drawn" with some very extraordinary color stains by the very mighty gods of the Eden world. This spectacular color combination of the carp has given birth to a new creature in this place – Koi fish.
Sometimes greatness does come from accidents!
The gods can't help admiring such a wonderful thing that's, even more interestingly, happened by accident. They immediately give parts of their power to the Kois, making them one of the mystical creatures in Eden alongside Dragons and Betta fish. The Eden world has thrived ever since, protected and guarded by highly vigorous gods and Zen animals. Koi fish, in particular, is an accidental creation that combines a nobly raw beauty with their symbolic powers of longevity and perseverance. Everything happens for a reason, and maybe it's the carp's destiny to become Kois and use their supreme power to represent the Eden world.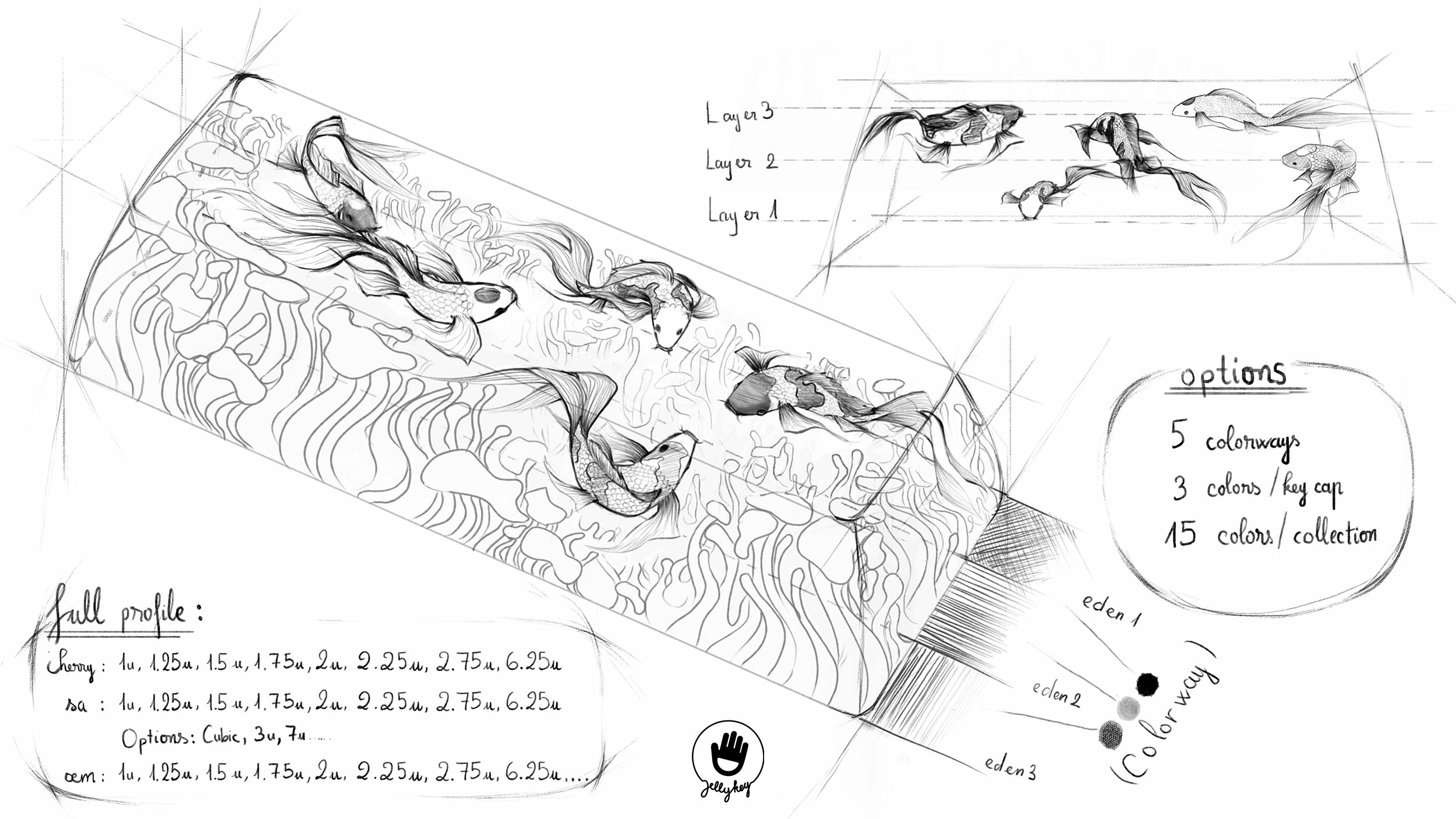 Similar to the previous collections of Zen Pond, we made the Kois in very small size. Don't be concerned by this tiny scale because you can still recognize very lively details inside the keycaps just under the size of a pinkie tip. In particular, the Koi fins are especially highlighted on their bodies to make it most visible and animated regardless of their size.
A whole new way to Koi making
In Zen Pond 4 we choose a completely new production technique that has never been used before at Jelly Key to take another step in innovating this unique collection. The technique creates 3 parallel color rays, resulting in a high and realistic contrast on the background. This particularly helps highlight the beautiful Koi fish.
The Kois are then made with different depth levels to create special Eden effects. This step takes a lot of time to do, especially when it comes to working with Koi fish as they are placed on various layers of clear resin. The amount of time and efforts is much more than other Zen Pond collections but it is very rewarding because we can produce an another amazing collection of God's creation.
Coloring the Kois – tough work! Moving on to color and effect formation, again, it takes the Pouring Art of mixing alcohol ink with resin to produce this magical series. It conveys abstract and random aspects of expression. The reaction of alcohol ink in resin brings a hypothetical effect occasionally used in interior design for some specific purposes. Its elegant fluids play a crucial role in raising the power of imagination. In the collection, we apply 3 to 5 layers of paint for each keycap so the colors can have a certain thickness and be clearer to our eyes. More importantly, these color tones are entirely based on real Koi fish to increase their authenticity.
This is also the hardest thing we faced during the production of Zen Pond IV. It's very challenging to paint the fishes and keep them spirited as much as possible. Not to mention that we also made Cherry, SA and OEM profiles for all keycaps in the collection, which induced another difficulty in detail layout as the space in this profile is typically short.
The actual Zen Pond IV keycaps will have the same color ways as shown in our images. However, be advised that these are keycaps with Eden effect so each of them will also carry a distinct shade. This creates a unique keycap to its only owner as there is no other single person that has the same item.
Special gifts for Zen Pond lovers
A limited version of Retro TV will be sent with orders having 9 Zen Pond or more…. and free shipping too. 
Shipping
1u / 1.25u ctrl,alt / 1,5u tab, \ / / 1.5u /2u / 2.25u Enter / 2.75u right shift / 3u
$9 per keycaps if you buy one.
$12 for 2 keycaps.
$16 for 3 keycaps.
$20 for 4 keycaps.
$20 for 5 keycaps.
Free shipping for 6 keycaps or more.
6.25u 6.5u 7u spacebar
$12 per spacebar if you buy one.
$16 for 2 spacebar.
$20 for 3 spacebar.
Free shipping for 4 spacebars or more.
Specs
MX stem
Backlit
Design and Handcrafted by Jelly Key
Group-buy information
Open time: 1/18/2022
Close time: 1/22/2022
Starting to Deliver after Groupbuy close: early than 90 working days 
We could close the GB sooner than expected. So take your chance as soon as you can.
What is in the box?
1 artisan keycaps by Jelly Key.
01 Medal dog-tag with engraved unique series number.
01 Wooden box.
A unique serial number is on the bottom of the keycap as well.
Sidenote
The keycap was made entirely by hand and tool. The final product may vary from the original photos but at an acceptable aspect. We would love to ask you to tolerate any reasonable differences.