Groupbuy processing: Casting 23%…
As artists involved in this Groupbuy, our goal is to produce keycaps with a particular design. The process entails several steps: casting resin in multiple layers, which takes approximately 48 hours; conducting operations for 3 hours per layer, with an additional 10 hours of waiting time; incorporating accessories such as characters, weapons, and 2D effects; dedicating 3 working hours to painting; applying a transparent resin layer that requires 18 hours; and finally, spending 2 hours on quality control, cleaning, and polishing.
It's important to note that these time estimates are specific to 1u-sized keycaps. Larger keycaps will naturally require more time and effort to complete.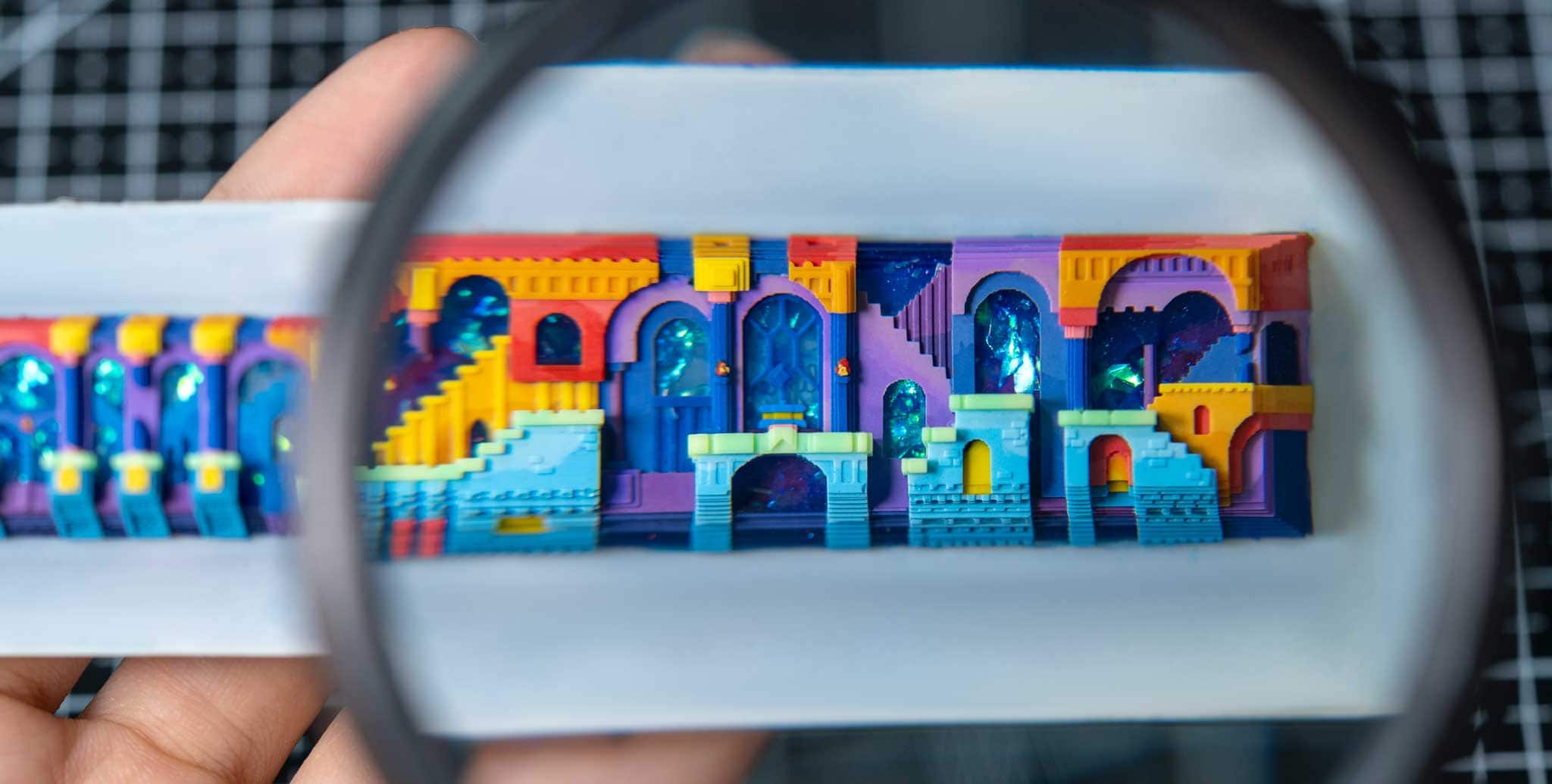 The kingdom that shines…
Gaismas Kingdom was always brilliant from natural landscapes to architectural buildings with various colours that perfectly harmonized as if it was a wonderland created by a mastermind that wows even the most demanding people. Living in such a stunning place, Gaismas citizens were the happiest ones on the planet, they could spend a whole day by the river, in the forest, or walking along the beach and leave out all the rest.
Then the darkness conquers
On the most terrifying day that no one could ever forget, the light was suddenly sucked into a mysterious castle at the kingdom's end, leaving the whole Gaismas in the spine-chilling darkness. It was believed that the castle's owner was an evil witch wanting to monopolize the realm, so she stole the light and took away the vitality of all living things.
The people were lamenting, languishing day by day with the life of groping in the dark night, relying only on the flickering fire from the fireplace or the kitchen. Gradually, fuel for burning was increasingly scarce, and the darkness was threatening the life of the entire kingdom worse and worse.
Here come the heroes
Determined not to put the kingdom in danger, a knight and an archer, the bravest ones in the kingdom, set out to the witch's castle to regain the light. The journey was long, dark, and harsh which continuously discouraged them. At times, they thought they could not lift their feet off the ground, but their strong will recharged them with incredible power. They eventually arrived at the castle after tiring days.
When entering the castle, they heard a voice calling for help from the cellar. Out of curiosity and confusion, they went down and, surprisingly, met the witch. She was locked, weak, and vulnerable as if she was dying. With a breathy voice, she told the two that the one who took over the castle, robbed the light, and intended to destroy the kingdom was a giant devil.
At that moment knowing his vicious plan, she tried her best to stop him. But this devil was too powerful, he defeated the witch, took away her strength, and locked her in the basement. She told them that his heart was not in the body, it was put away in a safe place so that no one could ever kill the devil in a one-on-one fight. They had to find out where the heart was located to end his life. The witch offered help to the two since she knew the castle like the back of her hand.
The battle to regain light
The two decided to free the witch and sought the devil's heart together. They went all the way to the spire, discovering that the heart was guarded by huge 16-foot carnivores. Swords and arrows could not take them down. The witch took the knight and the archer entirely by surprise, she used up her remaining strength to cast a spell on the carnivores to make them freeze in seconds, just in time for the two to take the heart away and destroy it. The witch fell to her knee and took her last breath with a winning smile on her face.
They heard the horrifying roar of the devil, then a halo surrounded the castle. The light was instantly released and filled up the whole kingdom. They burst into tears, realising that they had rescued their homeland.
How 8-bit series come into our life?
The 8-bit series has generally been proving very popular with all of you – who know and use keycaps of our Jelly Key team for so long. It is now launching the 4th version, named Gaismas Kingdom, with promising creative work.
The basic casting process of this collection is undoubtedly the same as previous versions: casting and coloring. However, our artists were put under pressure to complete a mission: make Gaismas Kingdom more aesthetic – that's the least the latest version should become.
What did our artists do? The hardest thing always comes from casting the base and the details.
A base was formed by different colour layers
The overall design of 8bit series 4 looks like a palace with many giant pillars and magnificent windows. The foundation accordingly needs to be strong and firm enough to lift the glorious architecture above. Different color layers with light and shadow effects bring us a feeling of a solid base for the whole keycap. Another tricky thing to cope with is the number and the size of color layers. It usually takes a day or two to finish casting the base without any mistakes. If there is a mistake, there is another day to cast again. Unfortunately, mistakes are sometimes out of the control of our artisans.
Lots of details that are tiny but require a higher level of art
The design is highlighted by a neat row of windows with a classic style inspired by European architectural style. Every window is a masterpiece with a vivid color effect. Our craftsmen spend most of the time to best describe these magnificent windows. However, we never forget other details which are also crucial parts of the keycaps. More than 40 details, many colors, and shadow polish techniques are the main things to completely and successfully finish this casting stage.
Last but definitely not least
After getting done with casting all details of the keycaps, the last step is to pour the outer resin layer to shape the keycaps. When it is dried, we work on surface treatment to make it glossy enough to easily see the details inside.
Raise your hand if you are inspired by both design and work behind this keycap series. Bring it home or miss it out?
Basil knight art toy & sticker
The Basil knight art toy is a complimentary gift for those who purchase a full set of keycaps (you can read at product description when choosing the options). Please note that this item is not available for purchase and is only offered as a gift.

We will put one random sticker in the keycaps box (our sticker collection with 9 characters in this 8-bit series). If you buy more than 9 keycaps, you will receive a complete set sticker (no overlap).
There are not a lot of sticker sets for this group buy (we print and cut by ourselves and they will be limited to those who place orders first.
Group-buy information
In this collection, Jelly Key is glad to bring all the SA, OEM, Cherry, Droplet and naked keycap profiles. This is among our goals to offer our customers a better experience when using artisan keycaps and help them enjoy their interior design in the best way.
All the top surfaces are flattened like the Cherry 1u keycap, which brings an exciting and comfortable feeling when typing. This absolutely flat surface also creates a perfect look for the keycaps when you put them on the mechanical keyboard or simply hold them in your hands. You can easily spot and admire all the inner details like never before!
Check out the images below to learn more about these profiles and discover them with us in this collection!
specs
MX stem
Profiles: OEM, Cherry, SA R3, Droplet, Naked
Keycaps size: 11 sizes (1u / 1.25u ctrl,alt / 1,5u tab, \ / 1.75u caps lock / 2u / 2.25u Enter /2.25u left shift / 2.75u right shift / 6.25u Spacebar/ 6.5uSpacebar / 7u Spacebar)
Design and Handcrafted by Jelly Key
shipping
1u / 1.25u ctrl,alt / 1,5u tab, \ / 1.75u caps lock / 2u / 2.25u Enter /2.25u left shift / 2.75u right shift
$9 per keycaps if you buy one.
$12 for 2 keycaps.
$16 for 3 keycaps.
$20 for 4 keycaps.
$20 for 5 keycaps.
Free shipping for 6 keycaps or more.
6.25u, 6.5u, 7u spacebar
$12 per spacebar if you buy one.
$16 for 2 spacebar.
$20 for 3 spacebar.
Free shipping for 4 spacebars or more.
group-buy information
Open time: 3/20/2023
Close time: 3/27/2023
Starting to Deliver after Groupbuy close: earlier than 90 days 
We could close the GB sooner than expected. So take your chance as soon as you can.
what is in the box?
1 8-bit series artisan keycaps by Jelly Key.
01 Medal dog-tag with engraved unique series number.
1 random sticker.
01 Wooden box.
A unique serial number is on the bottom of the keycap as well.
sidenote
The keycap was made entirely by hand and tool. The final product may vary from the original photos but at acceptable aspect. We would love to ask you to tolerate any reasonable differents.
With each artisan keycap from Jelly Key, we offer you a one-on-one replacement if there is fault that causes by our artisan team. Feel free to contact us.