Each keycap box will include one random sticker from our collection of 9 different art.
Stand boy is available as a gift for orders of more than 6 keycaps, or you can purchase it separately.
All orders of big art toy TV (x77, x32) or a full set of 1u keycaps will receive a full set of stickers (9). Please see the description below the option for more details.
All product photos are genuine, not 3D renders, and our keycaps are handmade with resin casting and multilayer colouring, not 3D printed.
The peaceful planet of robots and retro TVs
There is a planet far away in the galaxy where habitants are robots with heads as big as mobile TVs. Their mission is to produce retro TVs that save and play the phenomenal MVs of the century and share them with other planets, keeping beautiful sounds alive forever.
Day by day, they produce melodies, write lyrics, and sing out loud to feed data into the retro TVs. They also musicalize their daily conversations, expressing their emotions with songs.
Over the moon? They sing and dance with others.
Angry? They hum to relaxing music to release negative energy!
Heartbroken? They write a new song for their ex!
Discontented? They make a rap flow to frame their dissatisfaction!
However, peace is never permanent.
Sudden rescue mission
One day, after receiving signals from the planet of TV robots, a group of robots from the planet Demonio break in and steal a bunch of robots and TVs to research retro TV production methods – to serve their dark purpose of tracking all other planets to carry out a plan of massive destruction.
Putting aside the utter terror and bewilderment, the robots quickly determine to form a rescue team going to the planet Demonio.
It is such a strange task for robots since they have never been on a rescue mission before they have to risk their own lives doing so. After a speedy vote, over 80% of the robots in the rescue team decided to implement the challenging mission.
As predicted earlier, halfway on the journey to Demonio, some robots encounter hardware problems and then stop signalling due to the harsh condition outside their planet. The surviving group spends a few minutes honoring the dead and then overcomes anxiety, relying on each other to complete the journey. A robot sings out loud a song to keep him and his team fighting through adversity and remind them of the resilience that lies within.
And I won't look back, and I can go the distance
And I'll stay on track, no, I won't accept defeat
It's an uphill slope but I won't lose hope
'Til I go the distance, and my journey is complete
(Go The Distance – Michael Bolton)
Arriving at Demonio, the group immediately locates where their friends are tied up, just in time, to stop the Demonio robots from attacking them. The rescue squad plays songs in unison with maximum volume to express anger while releasing a powerful energy source that disables the Demonio robots.
Arriving at Demonio, the group immediately locates where their friends are tied up, just in time, to stop the Demonio robots from attacking them. The rescue squad plays songs in unison with maximum volume to express anger while releasing a powerful energy source that disables the Demonio robots.
Mission accomplished
The rescuers quickly free their friends and send them back to their planet for repair. As a result, gladly, the rescued robots all survive.
They together play a song to celebrate the return and continue their mission of bringing beauty to this life through music.
We are the champions, my friends.
And we'll keep on fighting till the end
We are the champions
We are the champions
No time for losers
'Cause we are the champions of the World
(We Are The Champions – Queen)
The largest base than ever
It seems we can save a lot of time by casting the base with a larger size, but we need the same time as other series to get each piece of the base dry: 16-24 hours. Other than that, we even spent more hours casting many layers of the base with tons of colours so that our team could perfectly put these pieces together with other details of a complete retro TV. Besides, elements such as circuit boards or speakers require extra concentration to have a realistic design.
After all, the components get done, we have an opportunity to show our excellent skills in assembling all parts for a firm base.
Working on details inside always brings a hammering heartbeat
There always have lots of characters inside in almost keycap designs, as each of them is an exquisite picture that our team desires to draw. And we expect the design in every collection brings you new enjoyment of art, so we always try to create new but more brilliant ideas in upcoming versions. We also do that in the Galaxy Thieves keycap collection. All characters and details are changed in comparison with their previous versions. However, the casting process remains the same. Each piece takes twice as much time as we normally do (around 8 hours on average to dry). Regards colouring, if the first layer doesn't dry completely, it can be mixed up when applying the second layer to the mould or even be damaged as it's not dry enough to stick to the mould. Therefore, we try to do it quickly but under the control of being careful and meticulous.
An outer case is not as usual
A final step is making a cover for keycaps. If other collections need only one resin case to cover all parts of keycaps, the retro TV series require double.
The first outer case takes 16-24 hours to become dry entirely and then goes through the process of surface treatment. All colouring effects are cast in this layer. And challenging work comes from how to make the cover firm enough to secure all details inside and make the shape look like a realistic retro TV.
A crystal case is also a must for this keycap design. It helps to create stronger protection for inner parts and plays a role as the TV screen. We try to bring you an incredible view of the scenery on TV through the crystal screen
A special edition – art toy x32 & x77
Art toy x77 is designed to meet our customers' expectations. It looks the same as the original keycap version but has a larger size.
To cast big-size details, we need a bigger mould and another production method which is different from casting smaller-size ones. Besides, we try to create the space with the appearance of depth for the TV screen. As it is on a large scale, you can easily have a stunning view of the realistic outer space in this keycap design.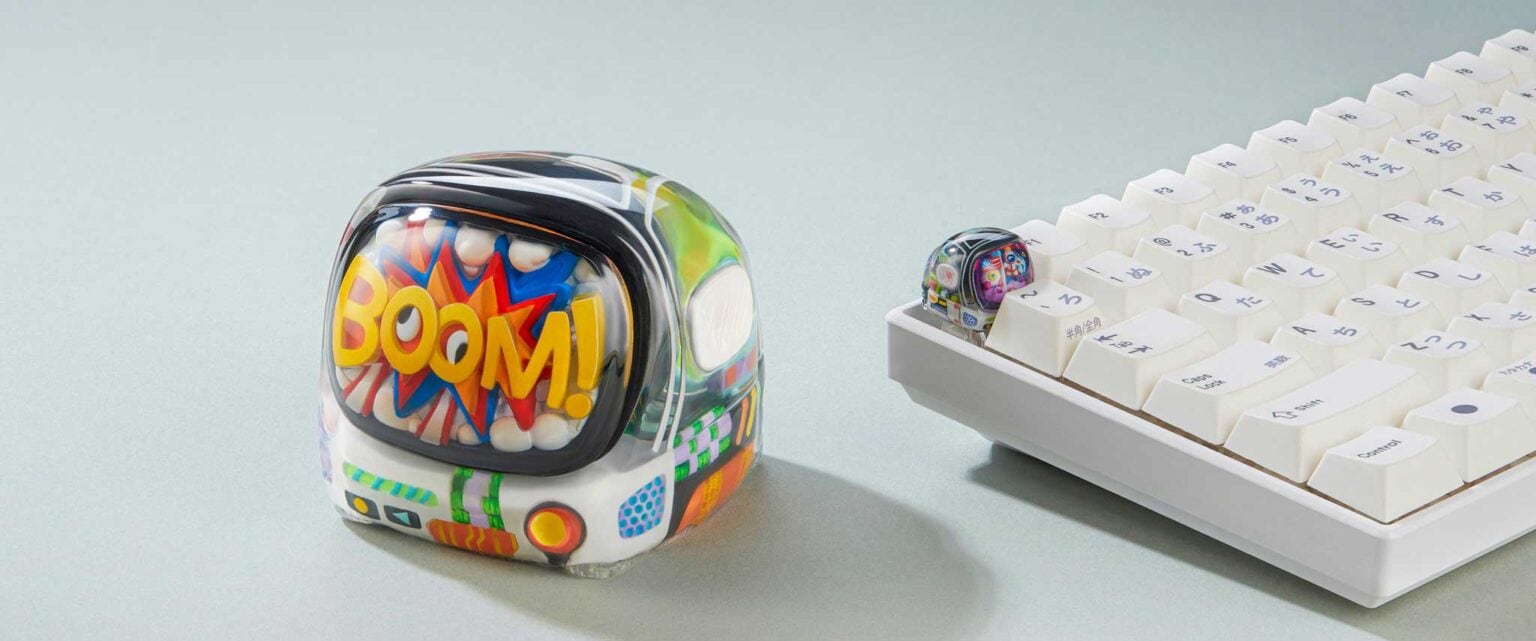 Stand boy for TV display
Introducing Stand Boy for TV display in the Galaxy Thieves series. This holder is designed to hold a keycap 1u and is handcrafted for an exquisite look. It also makes for a great desk decoration.
Each Stand Boy is fully cast with resin and stone powder, which gives it a weight of 16 grams, heavier than full resin at 10 grams. Additionally, it supports "Glow in the dark" feature. You can receive a random Stand Boy as a gift when you purchase 6 retro TV in this group or buy them separately.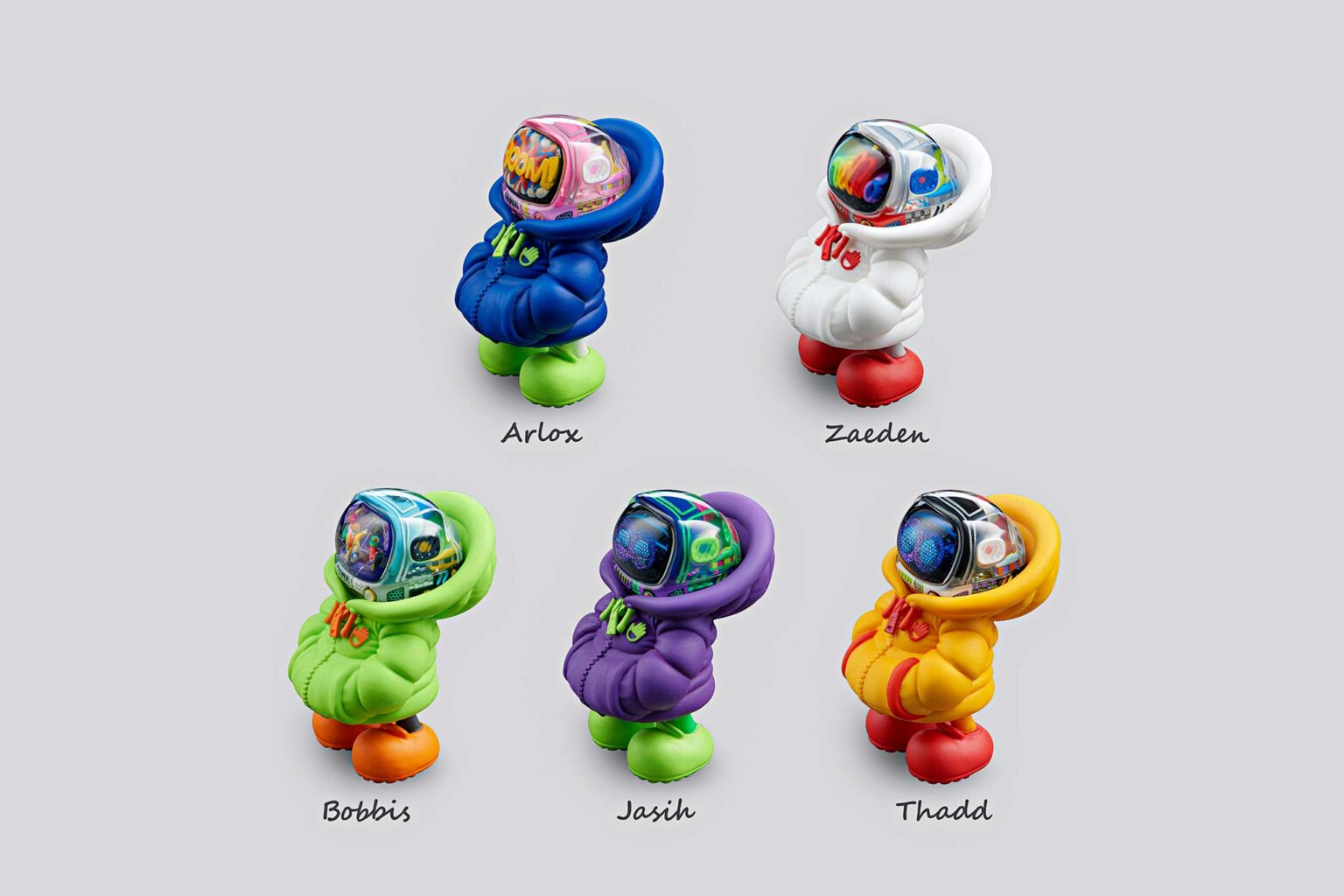 retroTV Stickers
Each keycap box will come with one random sticker from our collection of 9 different designs. If you purchase a total of 9 keycaps, you will receive a complete set of stickers without any duplicates.
Please note that we have a limited number of sticker sets available for this group buy, as we print and cut them ourselves. We recommend placing your order early to ensure you receive a set of stickers with your purchase.
Retro TV series – Galaxy Thieves Wallpaper download
All these wallpapers have 4k resolution
specs
MX stem
Profile: 1u keycaps
Big keycaps x32: 55.5mm x 55.5mm x 47.6mm (89.8cm3)
Big keycaps x77: 74mm x 74mm x 63.5mm (216,8cm3)
Design and Handcrafted by Jelly Key
shipping
1u keycaps
$9 per keycaps if you buy one.
$12 for 2 keycaps.
$16 for 3 keycaps.
$20 for 4 keycaps.
$20 for 5 keycaps.
Free shipping for 6 keycaps or more.
Big keycaps (art toy)
$16 per keycaps
Free shipping for 2 big keycaps or more.
group-buy information
Open time: 11/5/2022
Close time: 11/12/2022
Starting to Deliver after Groupbuy close: earlier than 90 days.
We could close the GB sooner than expected. So take your chance as soon as you can.
what is in the box?
1 keycap by Jelly Key.
01 Medal dog-tag with engraved unique series number.
A unique serial number is on the bottom of the keycap as well.
sidenote
The keycap was made entirely by hand and tool. The final product may vary from the original photos but at an acceptable aspect. We would love to ask you to tolerate any reasonable differences.
With each artisan keycap from Jelly Key, we offer you a one-on-one replacement if there is a fault that causes by our artisan team. Feel free to contact us.